Party Planning
0
Summer is the time to enjoy the company of great family and friends. What better way to do that than over delicious food? If you're thinking about hosting a summer barbecue, come into The Kitchen Shop at Bazaar del Mundo for some essentials:
Nothing goes better on corn bread than Jenkins Jellies' Hell Fire Pepper Jelly. This delicious spread is an organic, gluten-free and vegan gourmet condiment with a kick. It can also be used in dips, sauces, salads or even desserts. For more helpful recipe ideas, check out this cookbook "Sweet Heat: Cooking with Jenkins Jellies' Hell Fire Pepper Jelly" – http://goo.gl/exx0Ad.
Did someone say corn bread? Ass Kickin' Corn Bread is a full flavor bread mix that includes a packet of habanero pepper so you can flavor to taste.
Stonewall Kitchen's Basil Pesto Aioli is a classic French "mayo," blended with Basil Pesto to create a delicious spread for sandwiches and dips. It's also a great accompaniment to chicken, fish or pork.
Zesty Mexican spices make Frontier Soups' Tortilla Soup a sure-fire winner! The dehydrated black beans, peppers and sweet corn cook quickly in this Southwestern specialty. You can add chips or chicken to finish.
More delightful barbecue accessories include a glass beverage dispenser and small cacti spreaders. Don't forget to check out our extensive collection of cookbooks!
0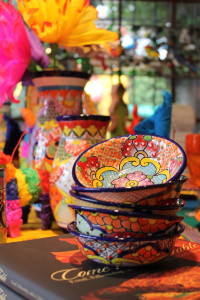 Plan a perfect summer outdoor party with our help at Bazaar del Mundo! Our Shops have everything you need to transform your backyard into a lively fiesta – from beautiful Talavera dishware, hanging patio lights and traditional Mexican papel picado in bright colors.
We also carry festive oilcloth tablecloths that come in fun prints and patterns – they're perfect for outdoor use and are a must-have for easy clean up. And if you want a real fiesta, you can top off the afternoon or evening by trying a new margarita recipe found in one of our many popular cookbooks.
Why not leave the cooking to one of Diane Powers' fabulous Mexican restaurants? Catering is available at Casa Guadalajara (next door in Old Town), Casa de Pico (La Mesa), Casa de Bandini (Carlsbad) and Casa Sol y Mar (Del Mar Highlands). Choose from a convenient party package, or make your own custom menu. Imagine how impressed your guests will be with fresh guacamole, handmade tortillas, delicious salsas and sauces made fresh daily, beans and rice, and a flavorful entrée!
To browse the entire selection of unique party décor at Bazaar del Mundo, visit us at the north entrance to Old Town on the corner of Juan and Taylor. www.bazaardelmundo.com