Archive for
November, 2014
0
Dear Friends,
I hope you had as much fun at Customer Appreciation Day as I did. It was so great seeing and talking to you. One of our longtime customers told me it was her first Christmas party of the season and she really enjoyed it. We did, too.
As shopping gets more hectic in the weeks ahead, please remember we're here to help you in any way we can. To make your life easier we offer gift wrapping and shipping via UPS. Please let us know how we can help you.
Most appreciatively,

**CONGRATULATIONS to our winners from the Customer Appreciation Day prize drawings:
Shopping Winners:
$200 – Susan L., Encinitas
$50 – Linda T., San Diego
$50 – Margo T., San Diego
$50 – Kathy R., San Diego
$50 – Brian S., San Diego
Dining Winners:
$75 to Casa de Bandini – Isobel C., San Diego
$75 to Casa de Pico – Dorleen B., San Diego
$75 to Casa Guadalajara – Christine W.
$75 to Casa Sol y Mar – Sandy B., Del Mar
0
We'd like to thank our wonderful customers with a day dedicated especially to them. Please join us for a celebratory shopping party on Thursday, November 20th from 10 a.m. to 9 p.m. It's the perfect time to escape the crowded malls and enjoy some holiday shopping!
As always, shoppers can find one-of-a-kind creations and unique designs that are distinct, beautiful and creative. There will be live music, delicious food and beverages, and prize drawings. The Shops will also offer free gift wrapping on purchases over $35. Chuao Chocolatier will debut new delectable flavors, and a number of guests will join us including Mywalit, Danny Goode Silks, Patty O'Neil (Moroccan clothing and jewelry), Linda Zaiser (collectible santa and angel dolls), and soup vendors!
0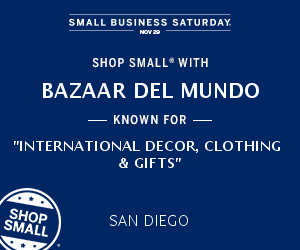 Join us at Bazaar del Mundo on Nov. 29th for a merry environment to get started on your holiday shopping. Browse our collection of folk art, jewelry, home accessories and collectibles from all around the world, creative fashion, arts and crafts, hundreds of cookbooks and whimsical ornaments to adorn your Christmas tree!
For a shopping break, dine locally next door at Casa Guadalajara. Sip a frosty margarita and try one of the new healthy dining creations such as Ensalada de Carne Asada – grilled and marinated carne asada with sliced avocado, tomatoes, queso cotija, sliced radishes, spring mix of romaine and cilantro lime dressing (390 calories).
When you shop at Bazaar del Mundo or eat at Casa Guadalajara, know that you're supporting small businesses in your neighborhood.
Small Business Saturday is a national campaign that rewards American Express users when they shop and dine at local businesses, making a contribution back to their communities. AmEx users who have pre-registered their card, will receive a credit back on their statement up to $30. For more info about the campaign, visit: www.smallbusinesssaturday.com.