Posts tagged
party
0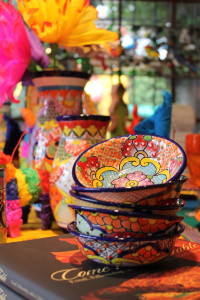 Plan a perfect summer outdoor party with our help at Bazaar del Mundo! Our Shops have everything you need to transform your backyard into a lively fiesta – from beautiful Talavera dishware, hanging patio lights and traditional Mexican papel picado in bright colors.
We also carry festive oilcloth tablecloths that come in fun prints and patterns – they're perfect for outdoor use and are a must-have for easy clean up. And if you want a real fiesta, you can top off the afternoon or evening by trying a new margarita recipe found in one of our many popular cookbooks.
Why not leave the cooking to one of Diane Powers' fabulous Mexican restaurants? Catering is available at Casa Guadalajara (next door in Old Town), Casa de Pico (La Mesa), Casa de Bandini (Carlsbad) and Casa Sol y Mar (Del Mar Highlands). Choose from a convenient party package, or make your own custom menu. Imagine how impressed your guests will be with fresh guacamole, handmade tortillas, delicious salsas and sauces made fresh daily, beans and rice, and a flavorful entrée!
To browse the entire selection of unique party décor at Bazaar del Mundo, visit us at the north entrance to Old Town on the corner of Juan and Taylor. www.bazaardelmundo.com
0
No one knows how to throw a Cinco de Mayo party like Diane Powers! Visit her Bazaar del Mundo Shops in Old Town to plan the perfect fiesta for your friends and family.
Everything you need to throw an unforgettable get-together can be found in our Shops – colorful dishware, Talavera platters, one-of-a-kind Mexican paper flowers, traditional Mexican papel picado and hanging chili lights. You can even give your guests festive party favors like our tasty Mexican sauces and salsas.
Complete the cultural experience by dressing the part! Stunning and authentic blouses and dresses are available in our Artes de Mexico Shop, along with gold and silver jewelry in Ariana.
Leave it to our chefs at Powers' Family of Mexican Restaurants – Casa Guadalajara, Casa de Pico, Casa de Bandini and Casa Sol y Mar – to cater a flawless meal including antojitos (appetizers), carne asada, carnitas, fresh tortillas, frijoles, postres (desserts) and more.
To see more of our fabulous Cinco de Mayo merchandise, see a photo gallery on our Facebook page.