The Bazaar del Mundo
This user hasn't shared any profile information
Posts by The Bazaar del Mundo
0
Love is in the air at the Bazaar del Mundo Shops! Whether you are looking for a gift for your significant other, mother, grandmother or child, we have a wide array of unique, beautiful gifts. This is the year to ditch the flowers and chocolates and to pick out a gift that is meaningful, colorful and practical.
Bazaar del Mundo has curated a list of Valentine's Day gifts for you so you can blow any gift expectations out of the water.
Fashion Forward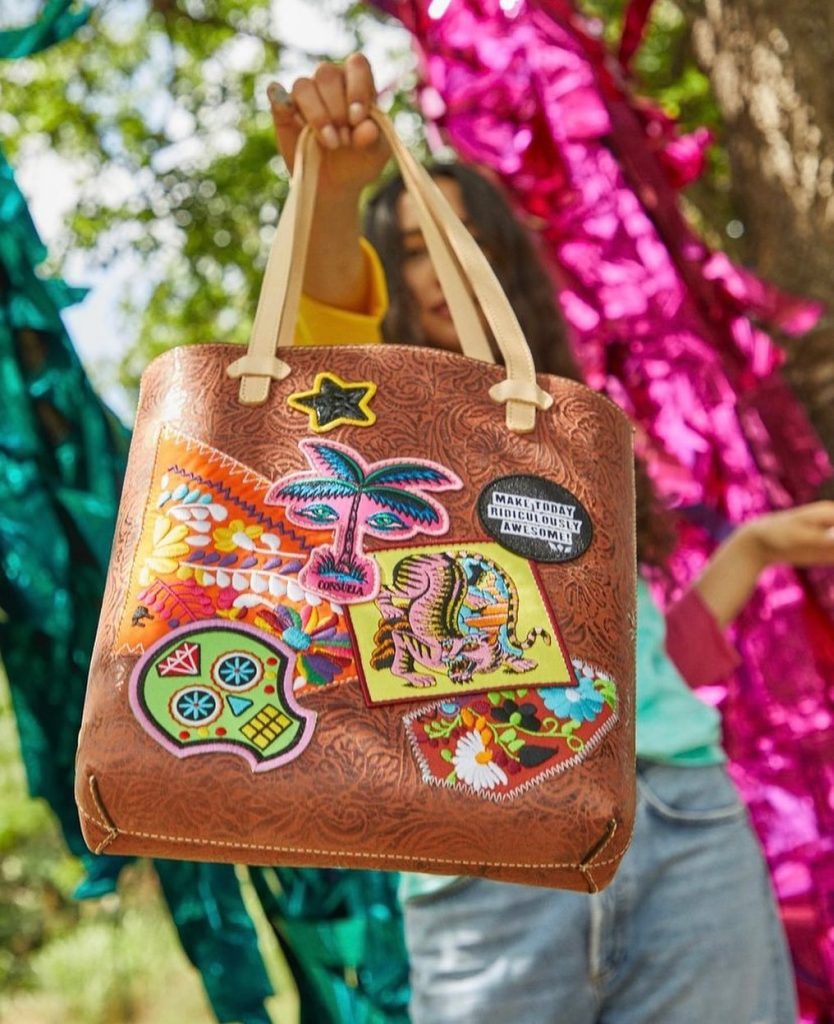 From handbags like this one from Consuela to embroidered leather wallets made in Paraguay, Bazaar del Mundo has fashion-forward women's accessories for every style.
Plant Lovers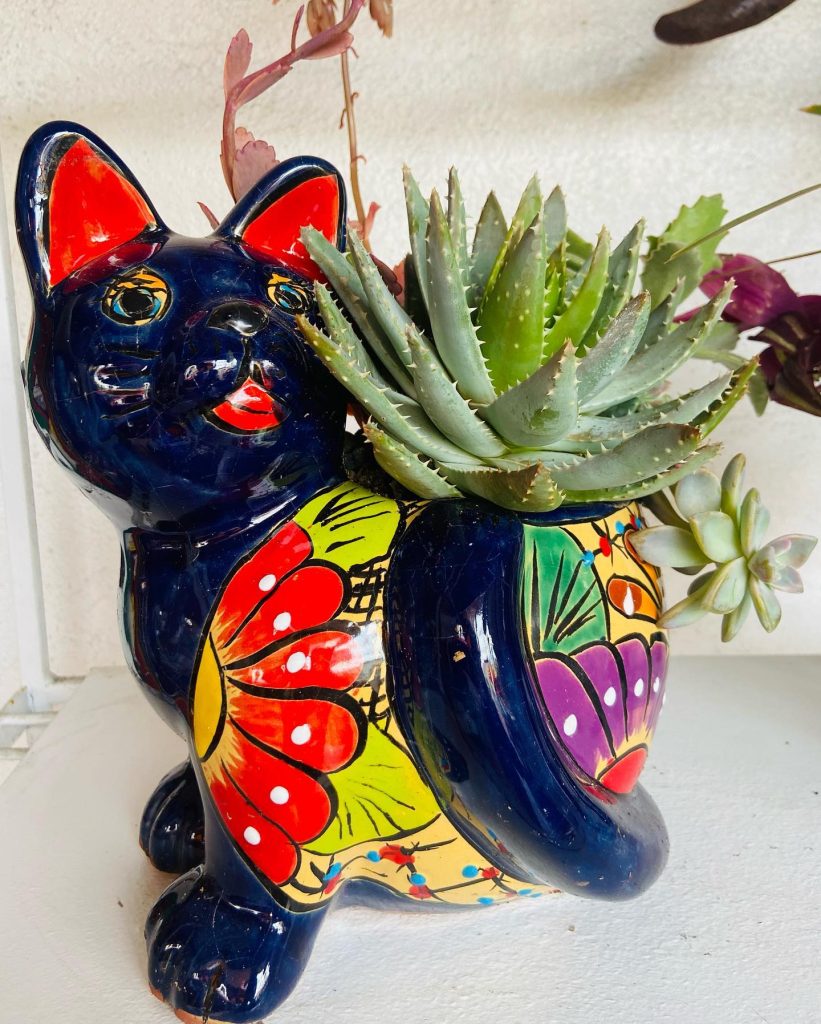 Who can't resist a plant, especially if it is in a colorful Talavera cat? Succulents are easy to take care of and add life to any office, bedroom or kitchen. It's the "purr"fect gift that can fit on a nightstand or a desk.
Foodies
For hosting big parties or intimate gatherings, grazing boards are always a hit. A cookbook like Beautiful Boards paired with a Teak Haus platter is the ideal gift for any foodie.
Outdoor Entertainers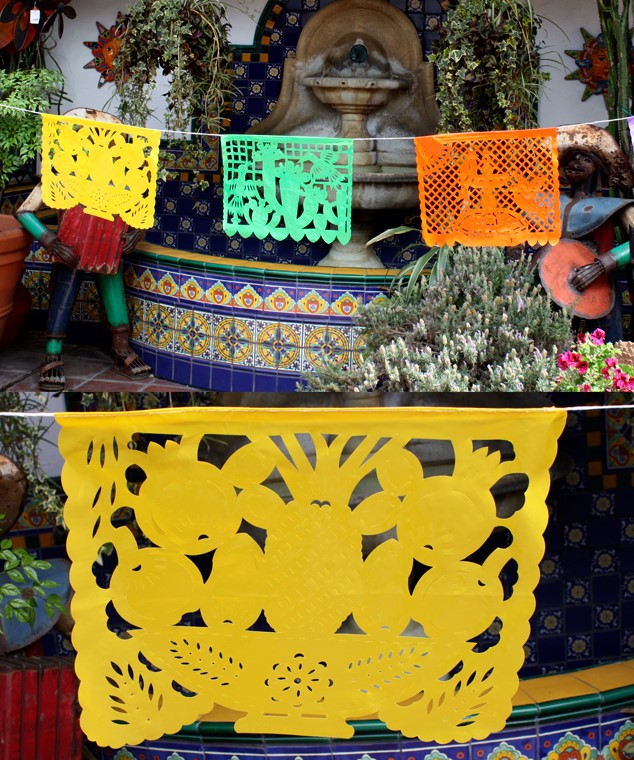 A gift that will add coloroutdoors, this Papel Picado is made to endure all types of weatherUse it to decorate your romantic Valentine's Day picnic too!
Young-at-heart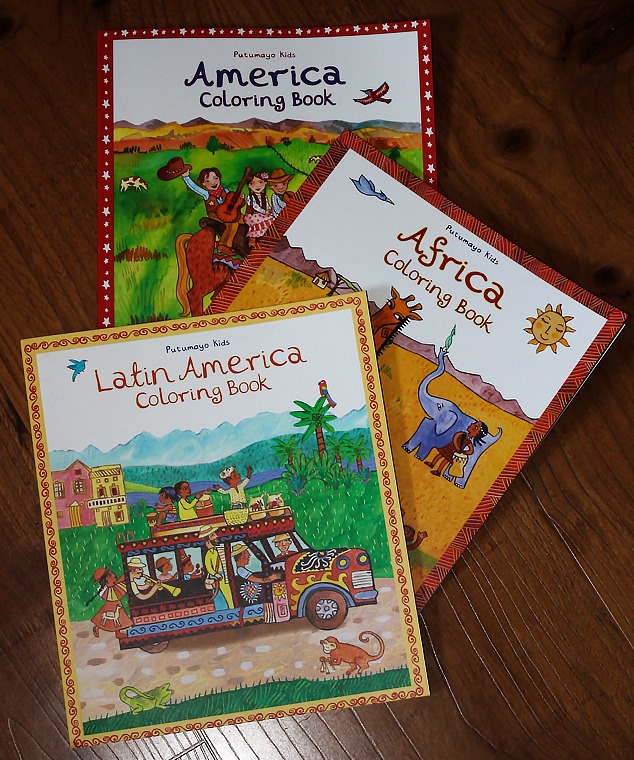 Coloring books are entertaining for children and calming and nostalgic for adults.
Valentine's Day gift-giving should be fun – shop Bazaar del Mundo for a plethora of accessories, planters, cookbooks, kitchenware and activity books.
0
Experience Authentic Folk Art & Crafts, Live Entertainment, and More Nov. 4-7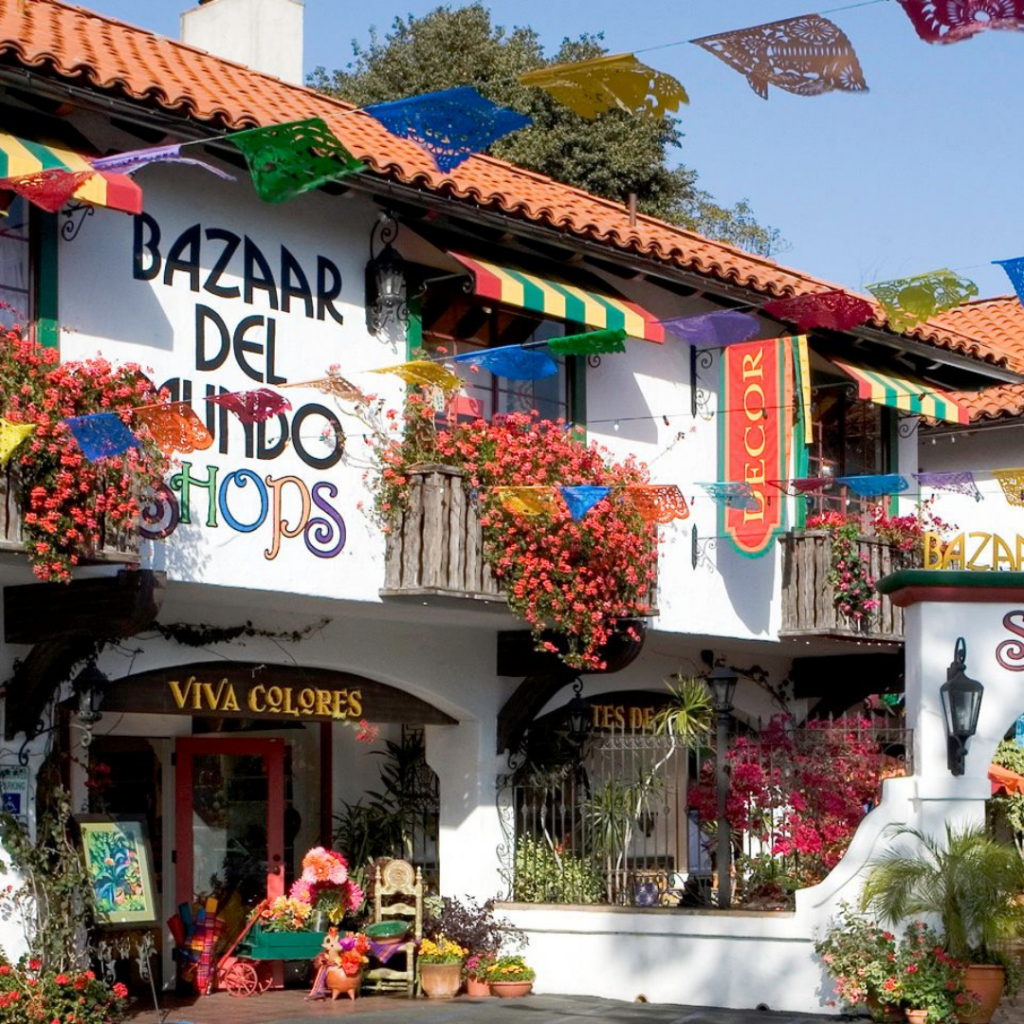 San Diego CA— Diane Powers' popular Bazaar del Mundo in Old Town is gearing up to celebrate its 50-year anniversary. Opened in 1971, Powers created a unique shopping and dining experience in San Diego that continues to attract thousands of visitors to the historical Old Town State Park every year.
"Since its beginning, San Diego has been a culturally rich and diverse region. That is due, in part, to historic businesses like Bazaar del Mundo, which has long been a celebration of the world's most vibrant cultures," said Julie Coker, president and CEO of the San Diego Tourism Authority. "Congratulations to Diane Powers, who has become a local icon in her own right as one of San Diego's preeminent female entrepreneurs and most successful business owners."
Guests are invited to the "Bazaar del Mundo's 50th Anniversary Fiesta & Marketplace" beginning Thursday, November 4, at 11 a.m. with a kickoff celebration at 6 p.m. The Marketplace continues through Sunday, November 7.
Thursday evening's kickoff celebration will include a proclamation and appearance from Mayor Todd Gloria, other VIP guests, mariachis, Folklorico dancers and longtime Bazaar del Mundo entertainer TINKU (a Latin American folk band), plus birthday treats, and other special surprises.
Held November 4-6 from 11 a.m. to 8 p.m. and November 7, 11 a.m. to 5:30 p.m. guests can enjoy a lively Marketplace filled with colorful and elaborately decorated booths and a showcase of authentic handcrafted art, crafts, jewelry, vibrant Mexican clothing and more. Entertainers will perform throughout the weekend.
"This November marks a milestone for our businesses," says owner and operator Diane Powers. "We couldn't have done it without our devoted customers and longtime dedicated staff, whose continued support has been the foundation of our success."
The Marketplace will feature many of Bazaar del Mundo's favorite Latin American artists, including Mata Ortiz pottery masters, Oaxacan wood carvers, Zapotec weavers, plus several local artists.
Artists include:
Pedro Montaño: Oaxacan weaver from Teotitlan del Valle showcasing marvelous wool rugs and runners in both traditional and contemporary Mexican designs and performing demonstrations on handmade looms.
Alessandra Thornton: An Ecuadoran Tagua jewelry designer showcasing her handmade pieces that are all created ecofriendly and vegan.
Gerardo Ortega Lopez: Gerardo's bright and whimsical figures of clay include recognizable depictions of colorfully painted roosters riding bicycles, cats and dogs driving cars, and more.
Sara Yunuen Gutierrez Garcia: Sara brings with her a beautiful selection of hand-embroidered, traditional clothing from Teotitlan del Valle, Oaxaca.
Inside the colorful Bazaar del Mundo Shops, shelves will be brimming with gifts and goods imported from around the world, as well as a myriad of books on travel, culture, architecture, arts, and crafts.
---
About the Bazaar del Mundo
Diane Powers' Bazaar del Mundo Shops and her family of restaurants are San Diego's recognized destinations for international cultures and Mexican-spirited cuisine.
The Bazaar del Mundo Shops, which have been recognized as one of the best shopping environments in San Diego, create a lively and colorful entry to San Diego's Old Town community while Powers' award-winning restaurants – Casa Guadalajara, Casa de Pico and Casa de Bandini – which make up the Bazaar del Mundo Restaurant Group, provide authentic Mexican flavor and ambience throughout San Diego County.
The Shops are comprised of colorful boutiques, each offering unique gifts from all over the world, home accessories and collectibles, handcrafted artisan jewelry, arts and crafts, plus creative women's fashion (such as colorful separates, accessories, bags, wallets and belts). The Kitchen Shop offers vibrant tabletop products and worldwide imported ceramics, as well as unique and quality crafts and folk art from Mexico.
The Bazaar del Mundo Shops and Casa Guadalajara are at the north entrance to Old Town on the corner of Juan and Taylor. Casa de Pico is located at 5500 Grossmont Center Drive, La Mesa. Casa de Bandini is located at 1901 Calle Barcelona, Carlsbad. For more information, visit www.bazaardelmundo.com.
0
Looking to finish out your summer in style? Bazaar del Mundo has plenty of eye-catching pieces to give your closet a boost. Here's a preview of items to look for in our Shops this month:
Embroidered Dress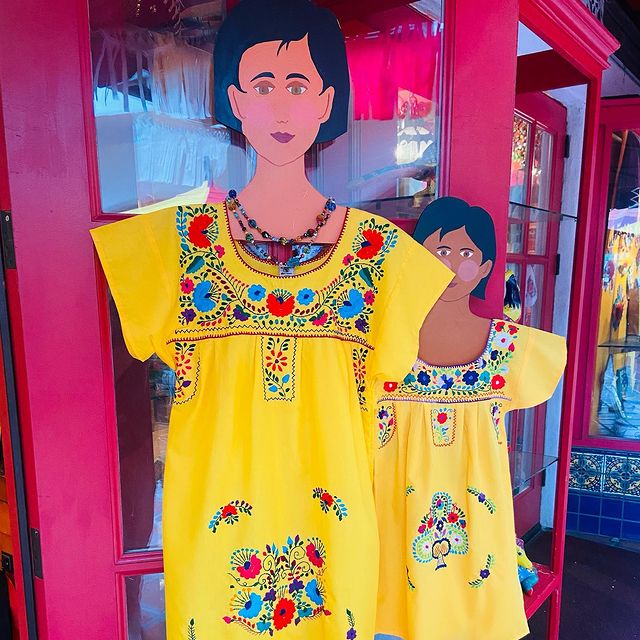 This beautiful dress combines vibrant colors and detailed embroidery. Its breezy frame will keep you cool during the hottest time of year—without skipping out on style. You can even match with your mini-me!
Cross Body Bag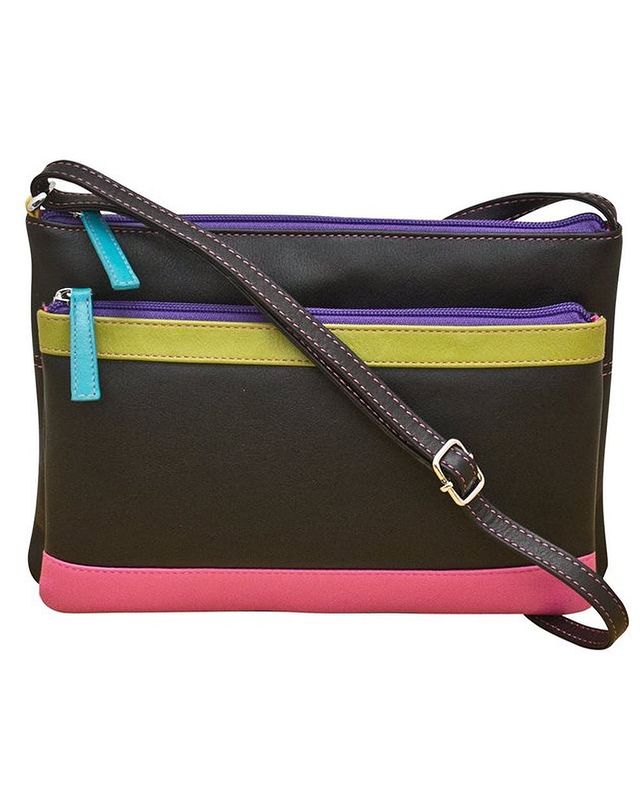 Both functional and chic, this leather bag allows you to carry all your summer essentials while giving your outfit a fun pop of color. And it's a fit for all occasions – whether you're running errands or grabbing dinner with friends.
Layered Necklaces
Want to make a statement? Kim Yubeta's striking "Treasure" necklaces give the simplest look a bright and fashionable flair. This necklace features turquoise, lapis, onyx, and peridot crosses.
Patterned Shirt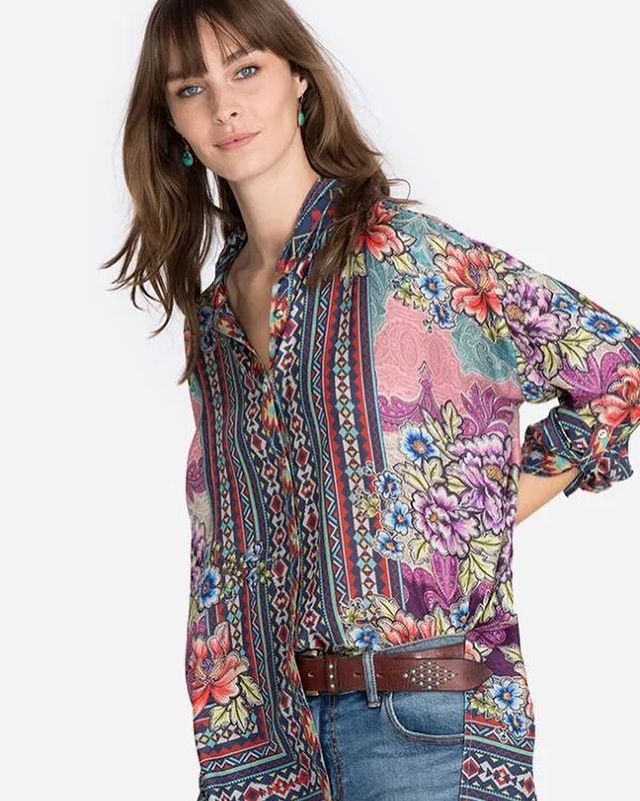 Designed by Johnny Was, this flowy button-down top incorporates an array of patterns and colors – and a touch of Western influence. With your favorite pair of jeans, a belt, and simple earrings, you can achieve a relaxed yet polished summer look.
Tie-Dye Sandals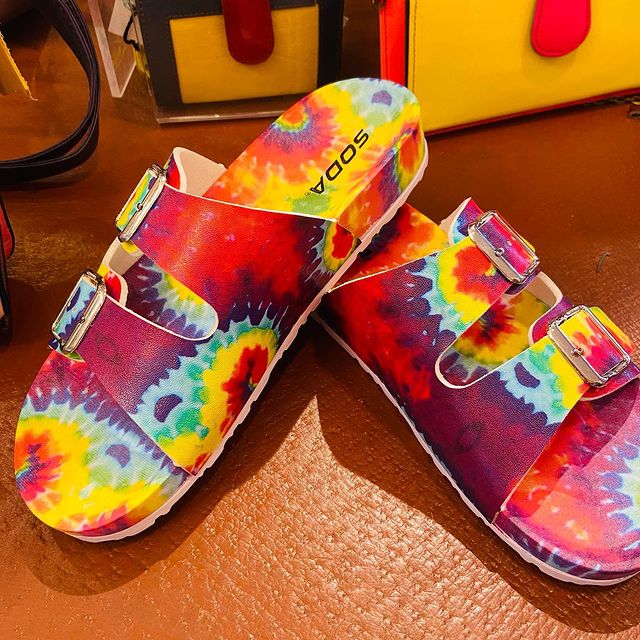 Nothing says "summer" like these tie-dye sandals. Perfect for post-beach cocktails and bites, these slides are sure to garner compliments.
Visit Bazaar del Mundo to find these items and others to fit any style! The shops are filled with hand-selected merchandise that we can't wait to share with you. Our operating hours are 11 a.m. to 5 p.m. daily. Stay updated by following us on Facebook,Instagram and Twitter.
0
Summer means delicious seasonal fruits and vegetables, time spent with family, and dinner parties! Whether you're settling in your backyard for a night of barbequing or inviting friends for a potluck, these Bazaar del Mundo home essentials will make dining al fresco even more memorable.
Festive Place Settings
Accented glassware, bright plates, and silverware with a pop of red detail create a fun backdrop for your food and drinks. Pull it all together with a patterned placemat, table runner, or vase.
Artist-Inspired Cloth Napkins
To highlight your love of art and add color to your table, bring out these napkins featuring Frida Kahlo. They also act as great conversation-starters!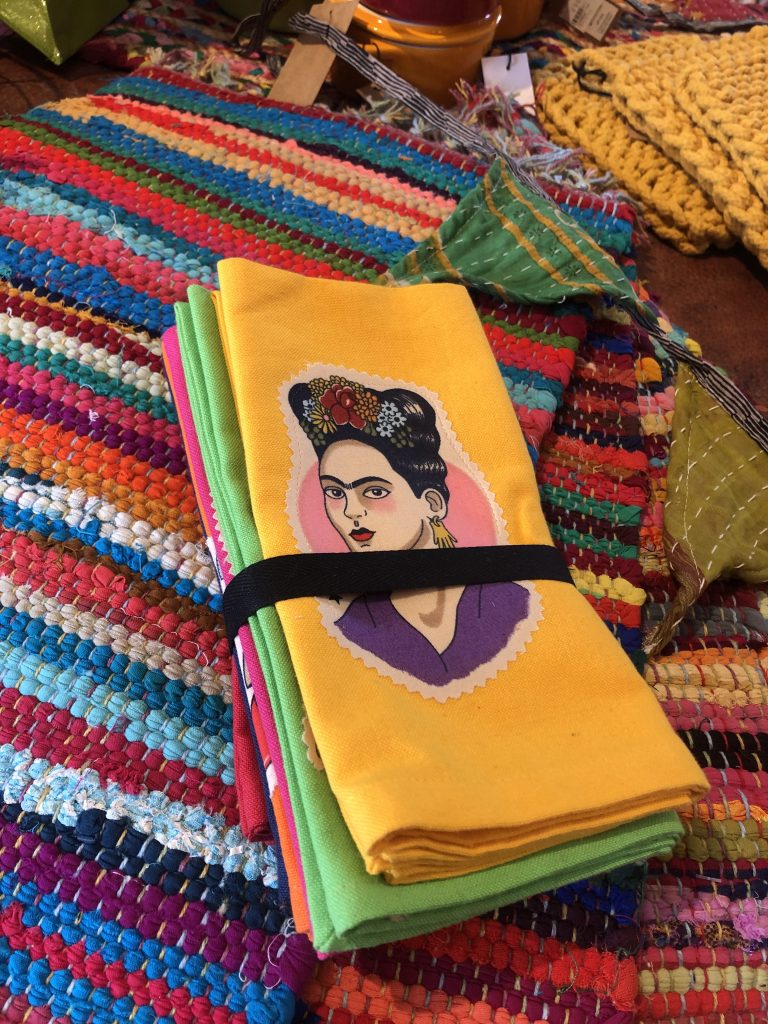 Patterned Mixing Bowl
Use this beautiful mixing bowl for your fresh summer salad. Complete with matching spoons, you can mix easily and serve your guests in style. If you're not hosting, this piece works perfectly as a gift too.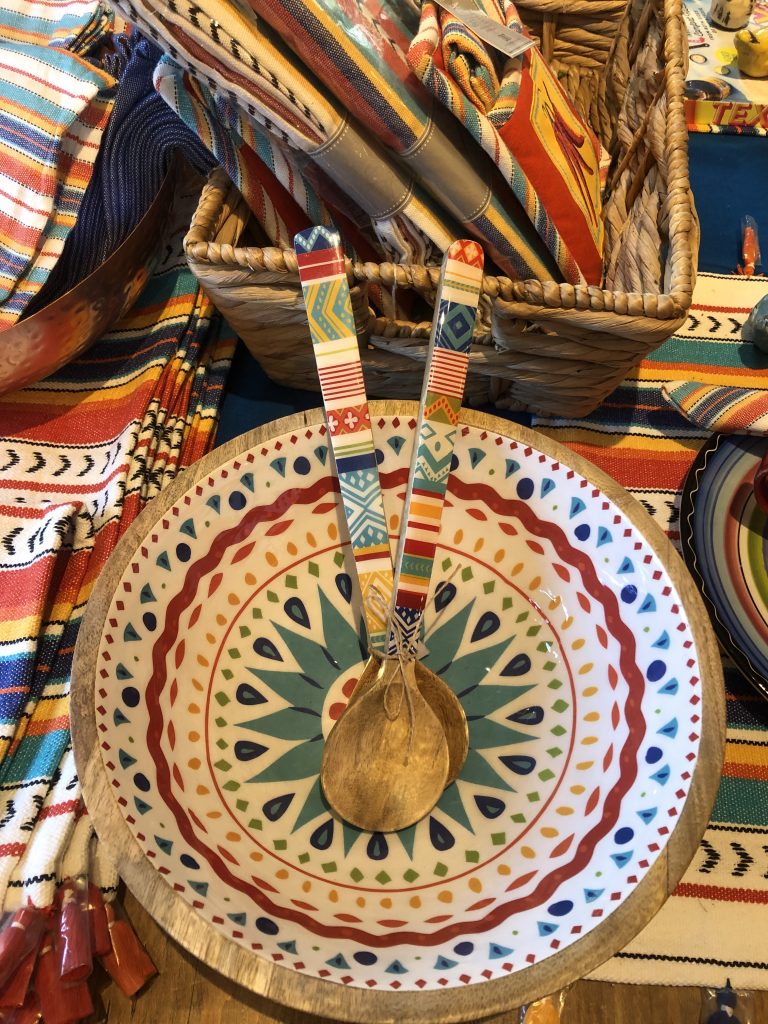 Embroidered Pillow Covers
Include a bit of Mexican flare to your indoor or outdoor seating with these intricate pillow covers. Switch up the colors and patterns to keep things interesting!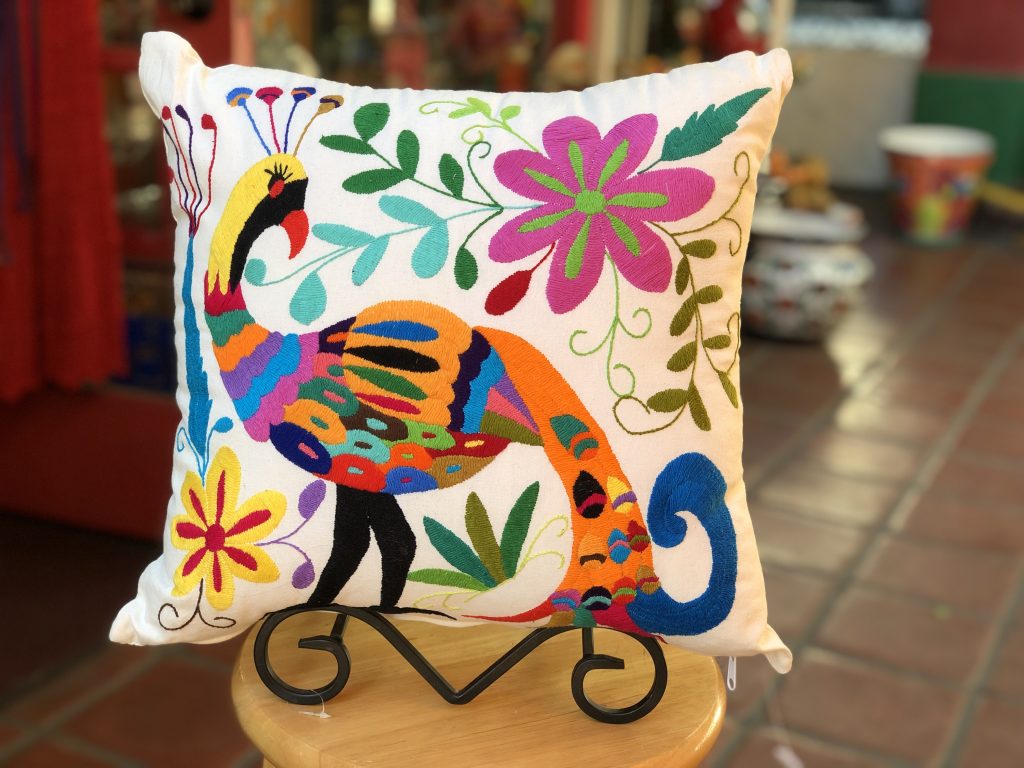 Eye-Catching Lazy Susan
What's a group meal without a Lazy Susan? This hand-painted piece incorporates vibrant illustrations and wistful words and phrases. Everyone will have easy access to their favorite dishes, and you won't have to make any décor sacrifices.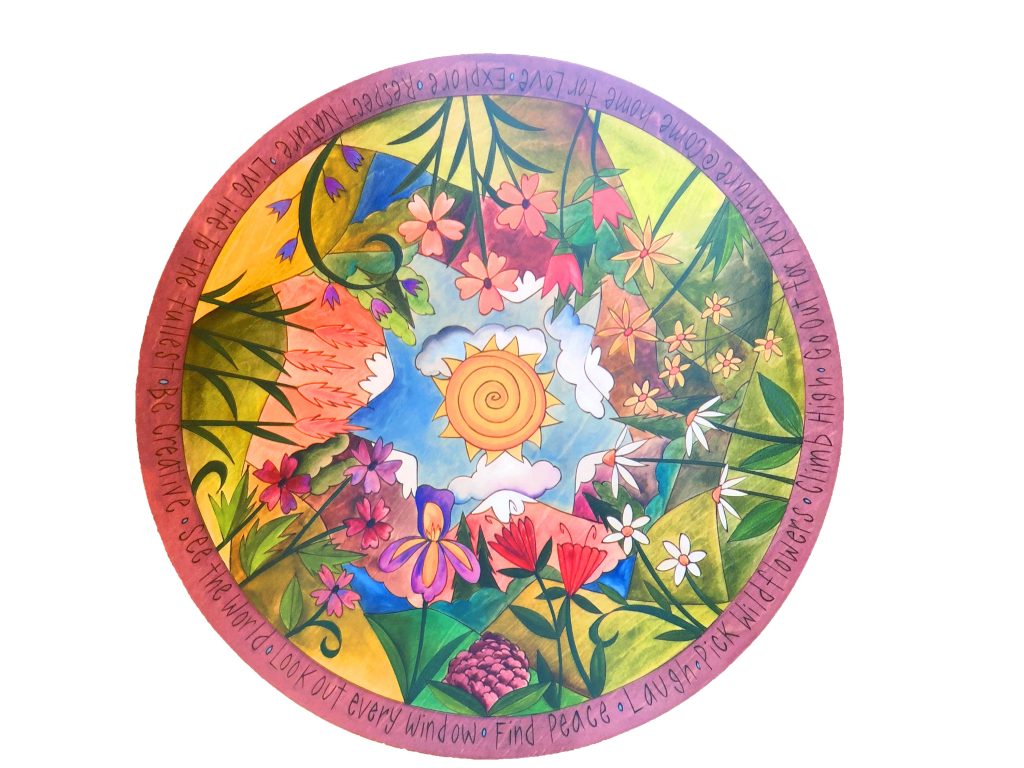 Stocking up on Bazaar del Mundo dinnerware and decor will limit the stress of organizing your next gathering while brightening your space for any occasion. Pair your new items with a margarita and enjoy the fiesta!
Stop by the Bazaar del Mundo shops before your next party—we are open 11 a.m. to 5 p.m. daily. You can also stay updated on new items by following us on Facebook, Instagram, and Twitter.
0
Create the perfect summer snack board and picturesque worthy charcuterie that will blow your guests away. An abundant tray of assorted meats, cheeses, vegetables, fruits and flowers is a beautiful accompaniment to your next summer BBQ or sunset happy hour.
Bazaar del Mundo has everything to build your own charcuterie board where the possibilities of creativity are endless. Stop by to pick up our favorite new book "Beautiful Boards," which includes 50 amazing snack board ideas that are easy to follow.
There is no charcuterie without the wooden board that provides that rustic feel and we've just added an array of teak wood boards to our Kitchen Shop. Choose a board that is flat and large enough to hold everything without overcrowding.
Arrange four to five different assorted cheeses on your board. When looking for your cheese, keep it interesting by mixing different flavors, textures and colors. Next, add a selection of cured meats such as pepperoni, salami, and prosciutto.
Add some flavor by incorporating different spreads and dips including hummus, ricotta or jam. Of course, don't forget the fresh bread and crispy crackers. The board won't look complete unless you fill in all the empty spaces, try adding plenty of fresh vegetables, colorful fruit, small nuts and trail mix. To make it even more colorful, consider some of our paper flowers by Teresita to complement your board!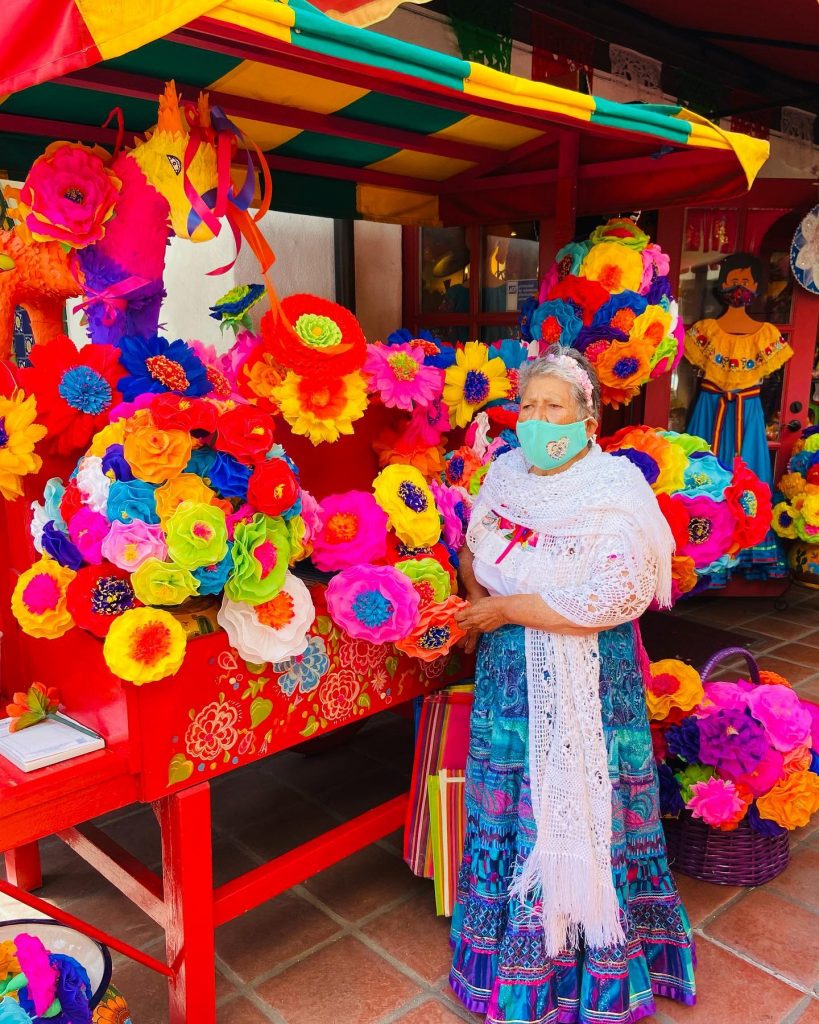 Charcuterie boards encourage guests to socialize, everyone likes to gather and linger near the board for easy access. Plus, most boards require zero cooking, the only skill is buying a nice board and "how-to" book from Bazaar del Mundo. Visit our shops to get started, we are open daily from 11 a.m. to 5 p.m.!
Stay updated by following us on Facebook, Instagram and Twitter.
0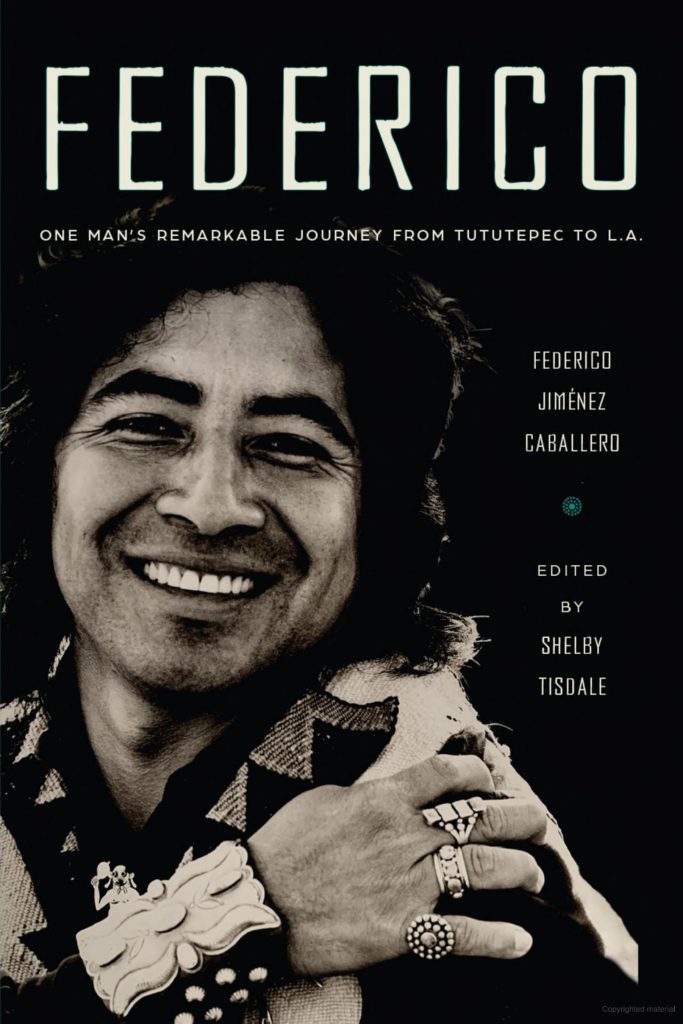 How did a young man from Tututepec, Oaxaca, become a famous jewelry artist and philanthropist living in Los Angeles? Find out at Diane Powers' Bazaar del Mundo Shops in Old Town when author and jewelry artist Federico Jimenez Caballero makes an appearance for a signing of his new book, Federico: One Man's Remarkable Journey from Tututepec to L.A., on Saturday, June 12, 2–5 p.m.
Jimenez Caballero always held a deep love and respect for his Indigenous roots and at a young age began to collect jewelry and textiles that reflected his culture. After meeting his wife and following her from Oaxaca to Los Angeles in the late 1960s, he brought his passion for jewelry by opening a series of shops to the public.
He began selling his handcrafted jewelry to well-known Hollywood stars and quickly became an established and recognized artist in the industry. His stunning turquoise and red coral creations have been worn by Christie Brinkley, Ali McGraw and Elle McPherson, who remain loyal collectors of his work.
During the event, a collection of Jimenez Caballero's stunning jewelry will be available for purchase at 20% off. The event is open to the public and will include delicious Mexican cuisine from neighboring Casa Guadalajara to enjoy in the courtyard of the shops. Masks are required and safety measures will be in place.
To join the festivities, visit the Bazaar del Mundo Shops at the north entrance to Old Town on the corner of Juan and Taylor.
For more information visit www.bazaardelmundo.com or call 619-296-3161.  
About Bazaar del Mundo
Opened in 1971, Bazaar del Mundo has long been hailed as one of the best shopping environments in San Diego, overflowing with hand-selected and handcrafted gifts and treasures that are unique in all the world. Carefully curated by owner-operator Diane Powers and her long-time staff, the Bazaar del Mundo Shops pay homage to the globe's most distinctive cultures with bold and ever-colorful merchandise. For more information, visit www.bazaardelmundo.com.
0
Now that Mother's Day is coming up, it's time to find a unique gift that will let the mom in your life know she's appreciated and loved. Leave the Amazon Prime for another time and shop local at Bazaar del Mundo, where you'll find unique clothing, jewelry and household items. We've rounded up a collection of our most thoughtful presents that any mother would love.
1.Johnny Was Kimono
If you are looking for a chic and fashionable gift for your mom, consider gifting her a Johnny Was kimono. There is nothing more iconic or luxurious than a beautiful, printed kimono she can dress up or wear in the comfort of her home.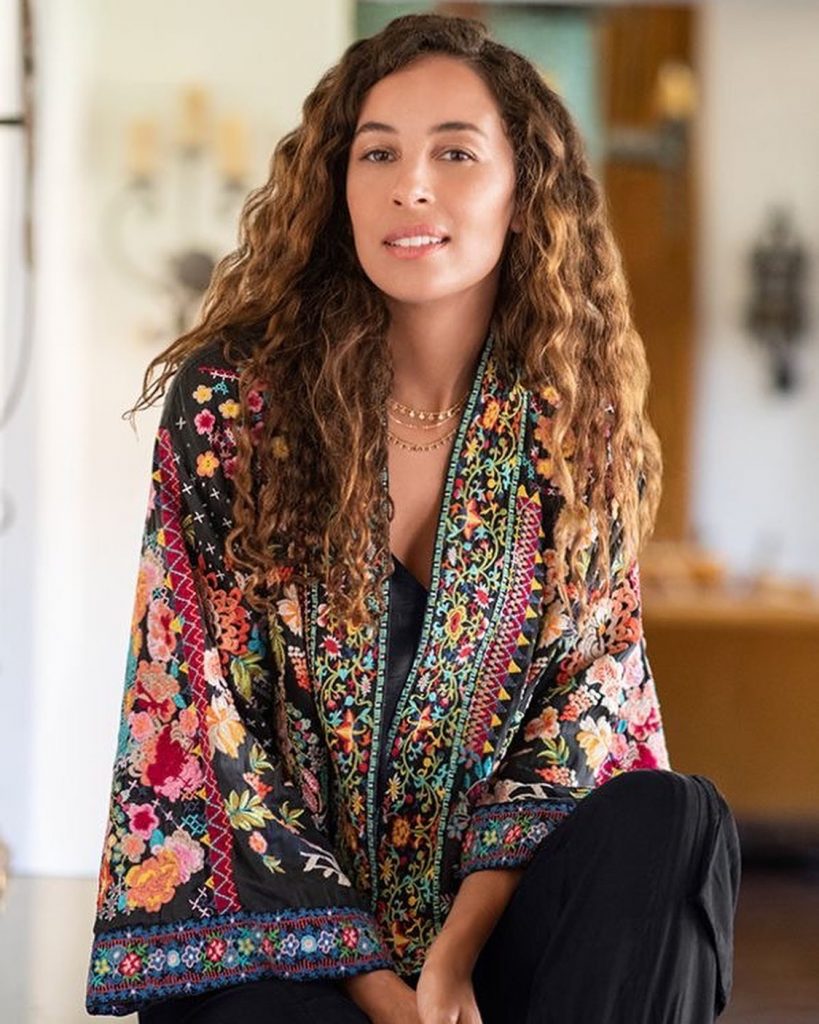 2. Ficklesticks Jewelry
Wow the maternal figure in your life with these fun and funky jewelry designs, created by "Ficklesticks." Made of colorful fabric, bungee cords, wire and more, these unique pieces compliment any outfit and come in an array of different designs and colors.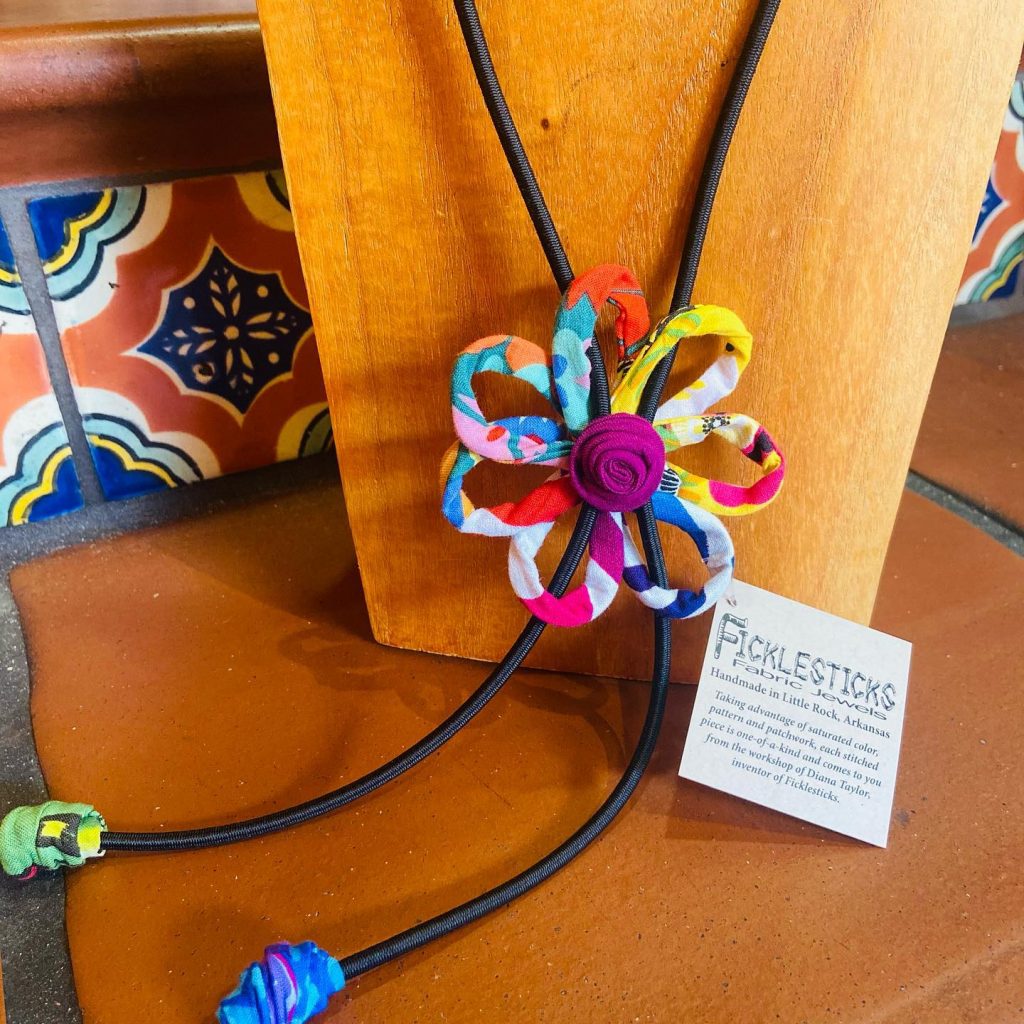 3. Oil Tablecloths
These colorful, printed oil tablecloths have the capability to brighten up any room, plus they are easy to wipe clean! Bazaar del Mundo offers them in vibrant colors, patterns and sizes, the ideal gift for any mom looking to freshen up her home – and great for dining outdoors!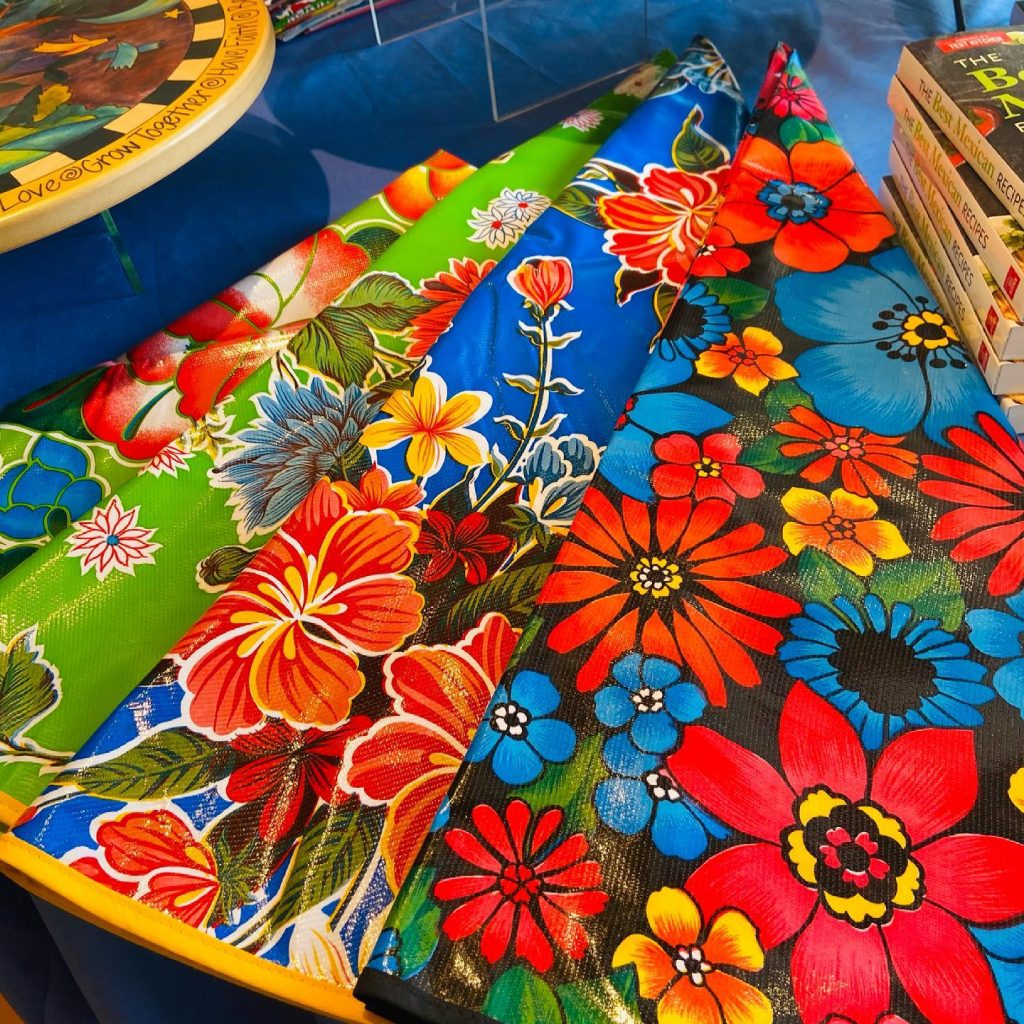 4. Summer Tablescapes
With sunny days ahead, dining al fresco is a must.  These festive, serape-inspired runners, placemats, napkins and serving utensils make the perfect table setting for inside or outside. Pro tip: get creative and set the table with this festive tables display for a Mother's Day brunch or dinner – guaranteed to make her smile.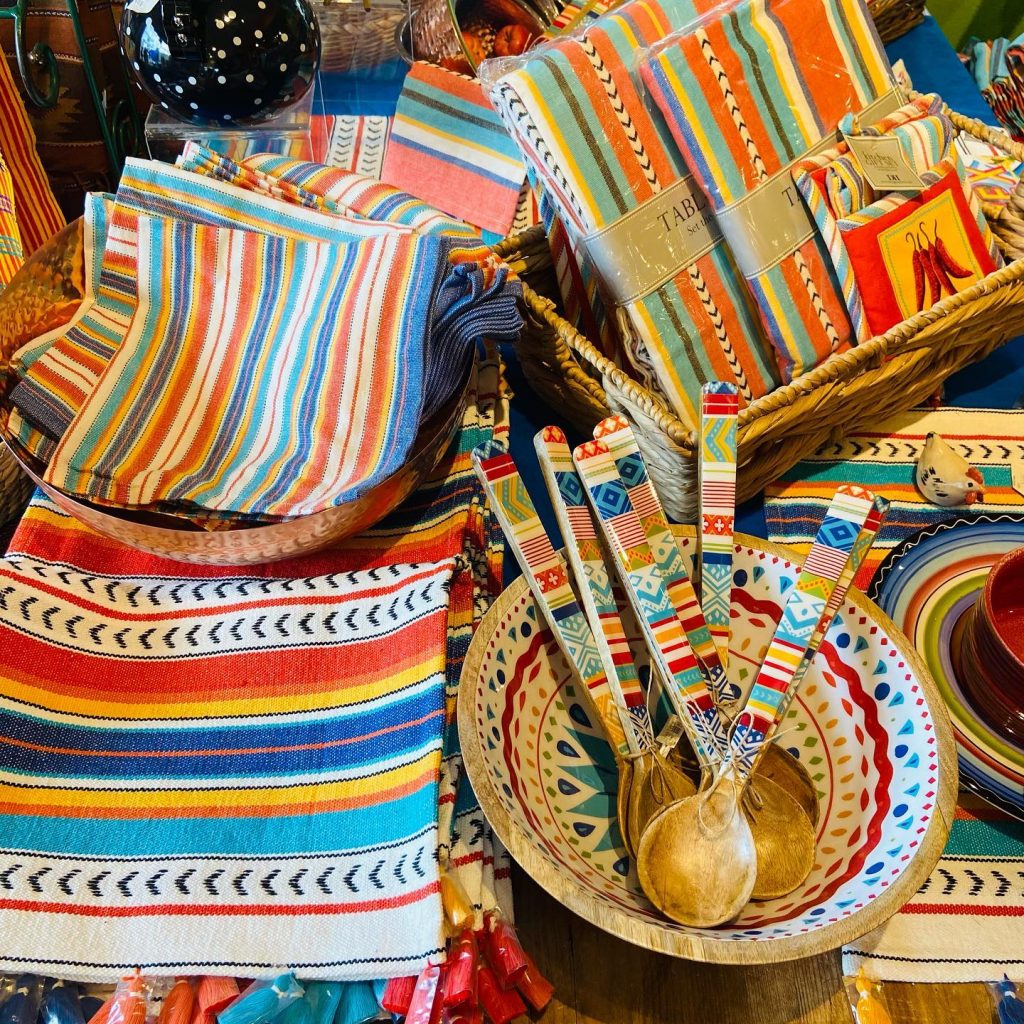 5. Festive Cookbooks
Rather than chocolates or flowers, how about something that lasts?  Bazaar del Mundo is ripe with new, beautiful cookbooks from all around the world. A collection of incredible recipes that double as a coffee table accessory is the perfect gift for mom.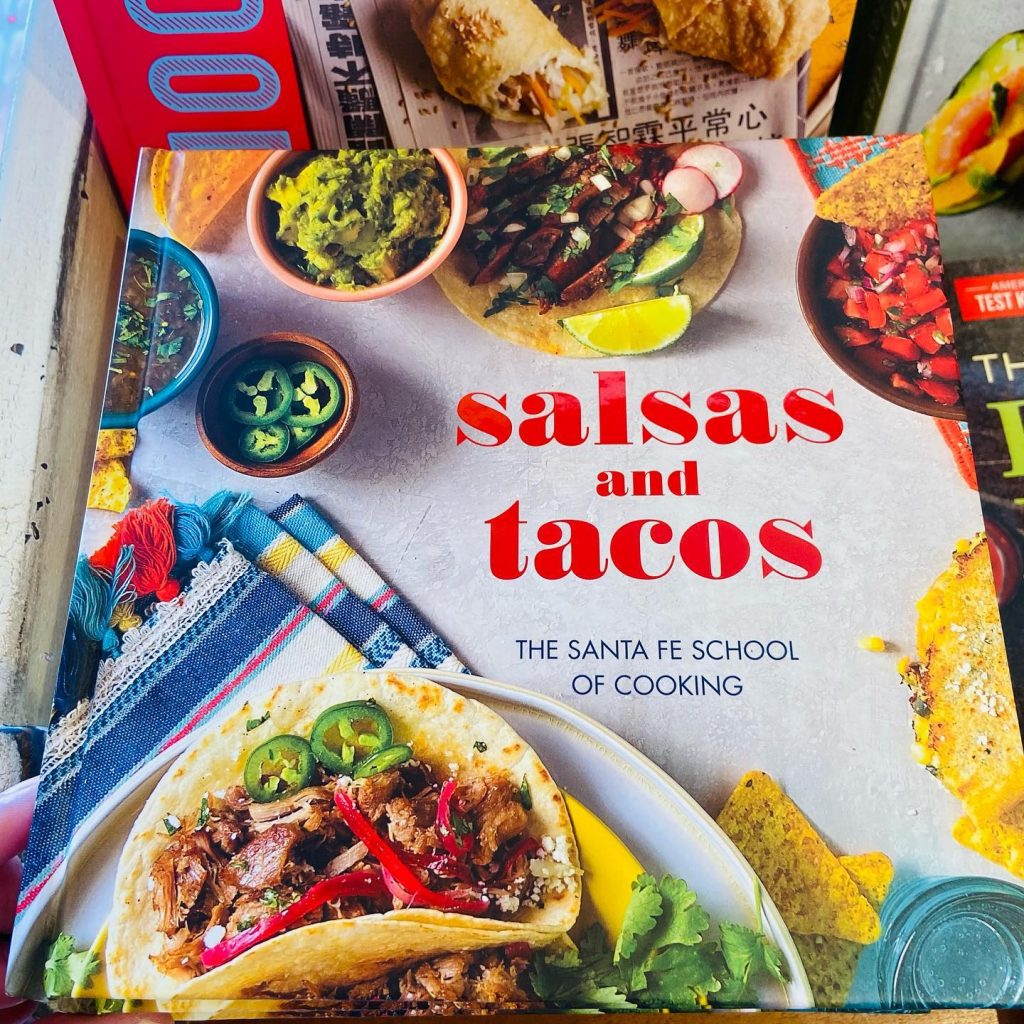 Visit Bazaar del Mundo and we can help you find the perfect gift to show mom just how much you love her. Follow us on Instagram, Facebook and Twitter to stay updated on all new arrivals.
0
Longer days and warmer temperatures make springtime the perfect excuse to upgrade your living space. Bazaar del Mundo offers an array of vibrant colors, unique textures and festive fabrics handpicked from across the world. With just a few interior tweaks and tips, your home decor will go from winter-ready to warm-weather fiesta.
Check out our colorful, new pieces to help spruce up and brighten your home for spring:
Go Bright!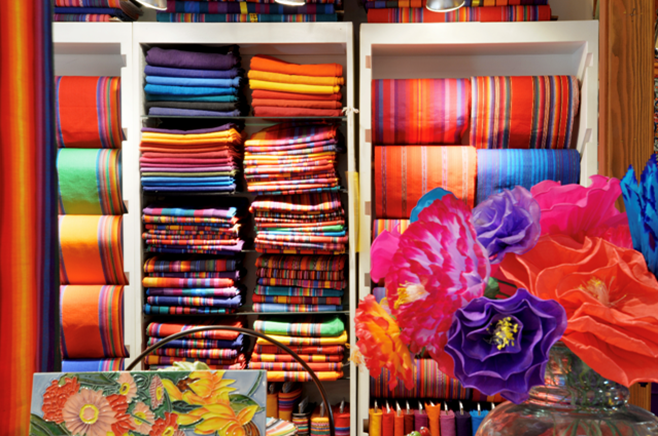 Try adding colorful fabrics to your rooms by picking out eye-catching decorative pillows for your couch or bed, and tablecloths and/or runners for your dining room table. Adding pops of colored fabrics throughout your house can help create an atmosphere that screams spring.
Add Some (Plant) Life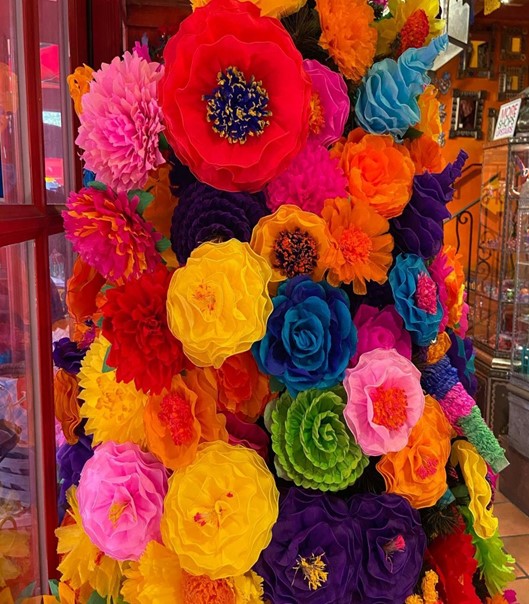 Florals for spring is a well-known staple. If you don't have access to real flowers, Bazaar del Mundo's classic paper flowers will help freshen up your space. Plus, these vibrant flowers never die! Pick from an array of different styles, colors and sizes.
Table Settings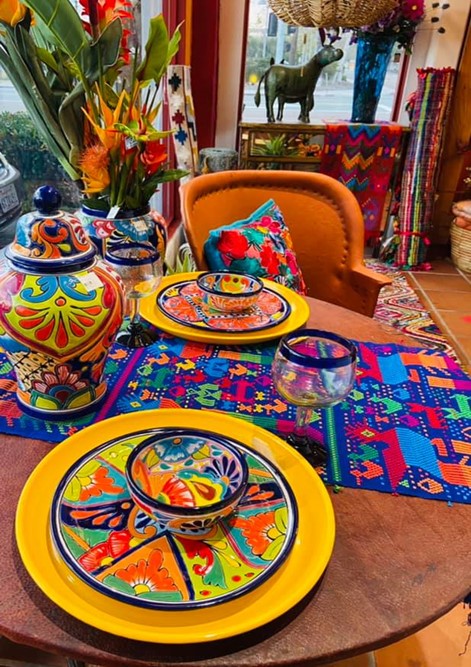 For those who like to feature a beautiful table setting in their home, spring is the perfect time to transform your dining table into a showpiece. You'll be able to grow your collection of cheerful and vibrant table statements with our fun plates, dishes and bowls.
Update your Bedding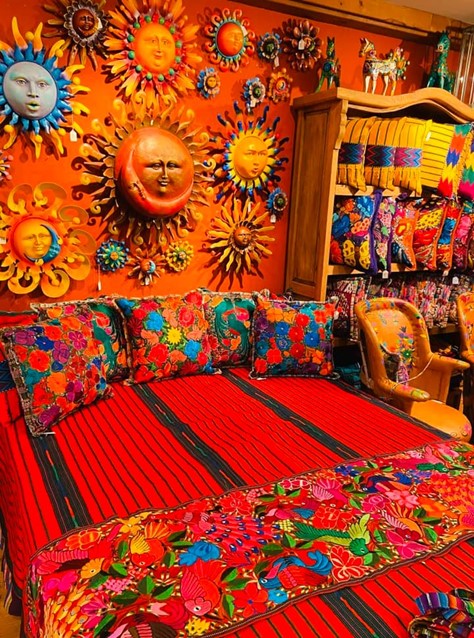 Spring is awakening, so let us help you freshen up your bedroom with new embroidered bedding. Or simply refresh your look by switching out your heavier winter blankets, throws and pillows with uplifting colors and rich textures.
Freshen up your Floor
Roll up those winter rugs and freshen up your living space with updated rugs. The beauty of having an area rug is having the ability to swap it out whenever you want. Lucky for you, we have multiple different types of designs that will reenergize any room.
Visit Bazaar del Mundo, our operating hours are 11 a.m. to 5:30 p.m. daily and stay updated by following us on Facebook, Instagram and Twitter.
0
Valentine's Day isn't just about finding the perfect gift for your significant other, it's also a time to celebrate all the other special people in your life, from Galentines to grandmas. Here at Bazaar del Mundo, we want to help you find unique Valentine's Day gifts to spread the love this Valentine's Day.
Cards, chocolate and flowers can seem redundant, but Bazaar del Mundo makes it easy with our array of festive collectibles and specialty items from all over the world. Whether you feel like gifting something to your best friend or yourself, everyone deserves to be treated to something special!
Here is a list of Valentine's Day gifts curated by Bazaar del Mundo that are guaranteed to put a smile on anyone's face:
1. Cookbooks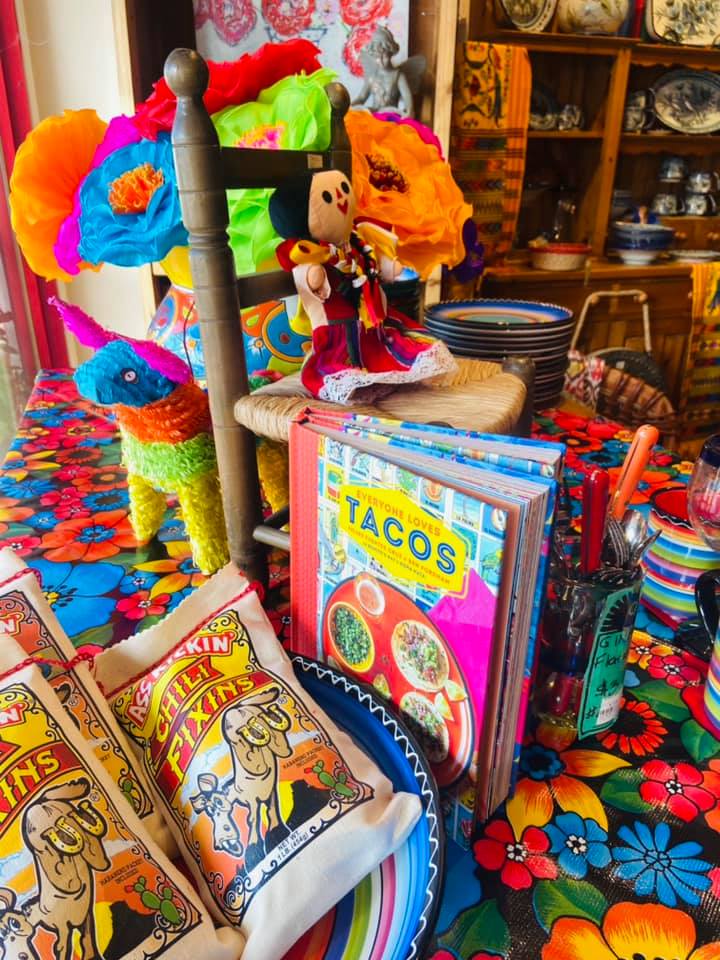 A cookbook can be a sweet gift for the home cook in your life. Or what better way to celebrate feelings from the heart than with a romantic meal or sweet treat? You'll find a great collection of cookbooks at Bazaar del Mundo for all different types of foodies. We have cookbooks that suit every skill level, lifestyle or interest from every corner of the world.
2. Festive Jewelry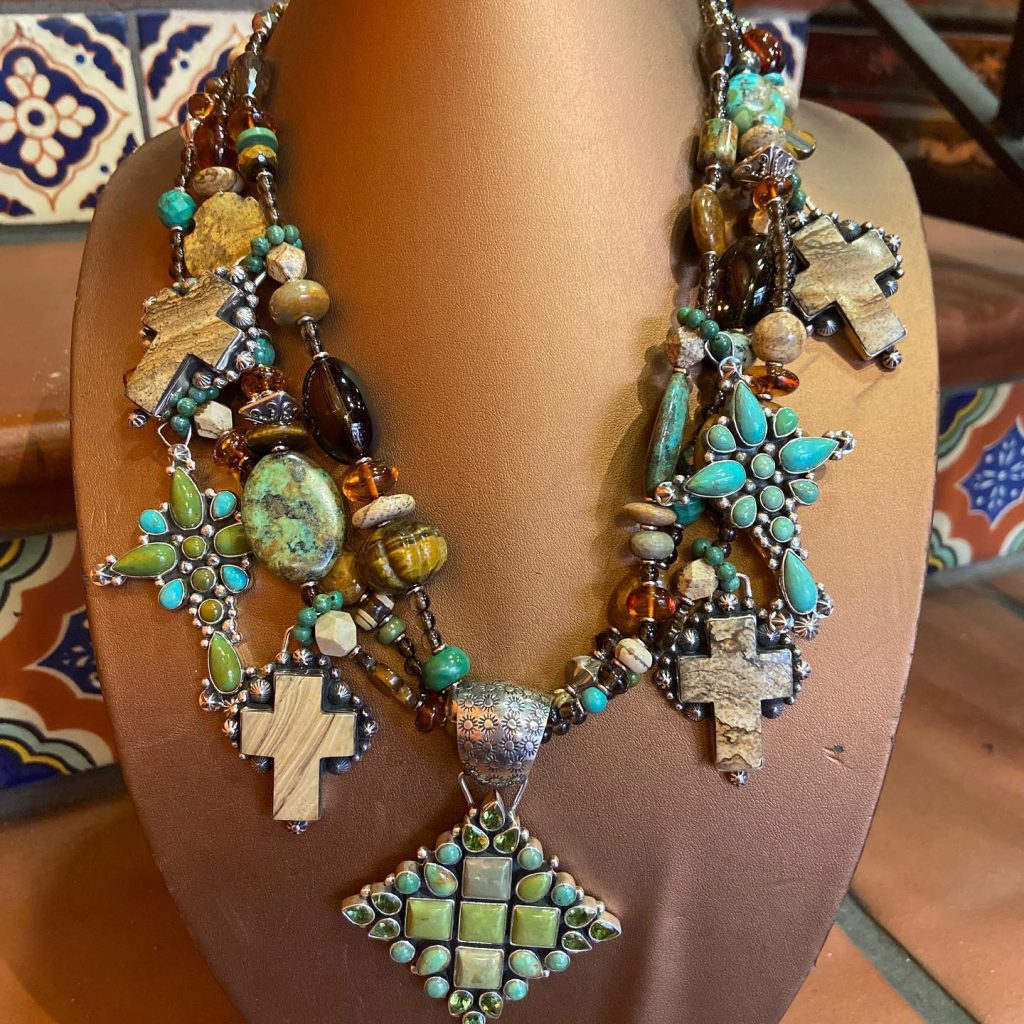 When in doubt, one-of-a-kind jewelry makes a lovely gift for anyone in your life. Whether it's a statement necklace or a festive pair of earrings, great jewelry has a place in nearly every wardrobe no matter the occasion.
3. Signature Soaps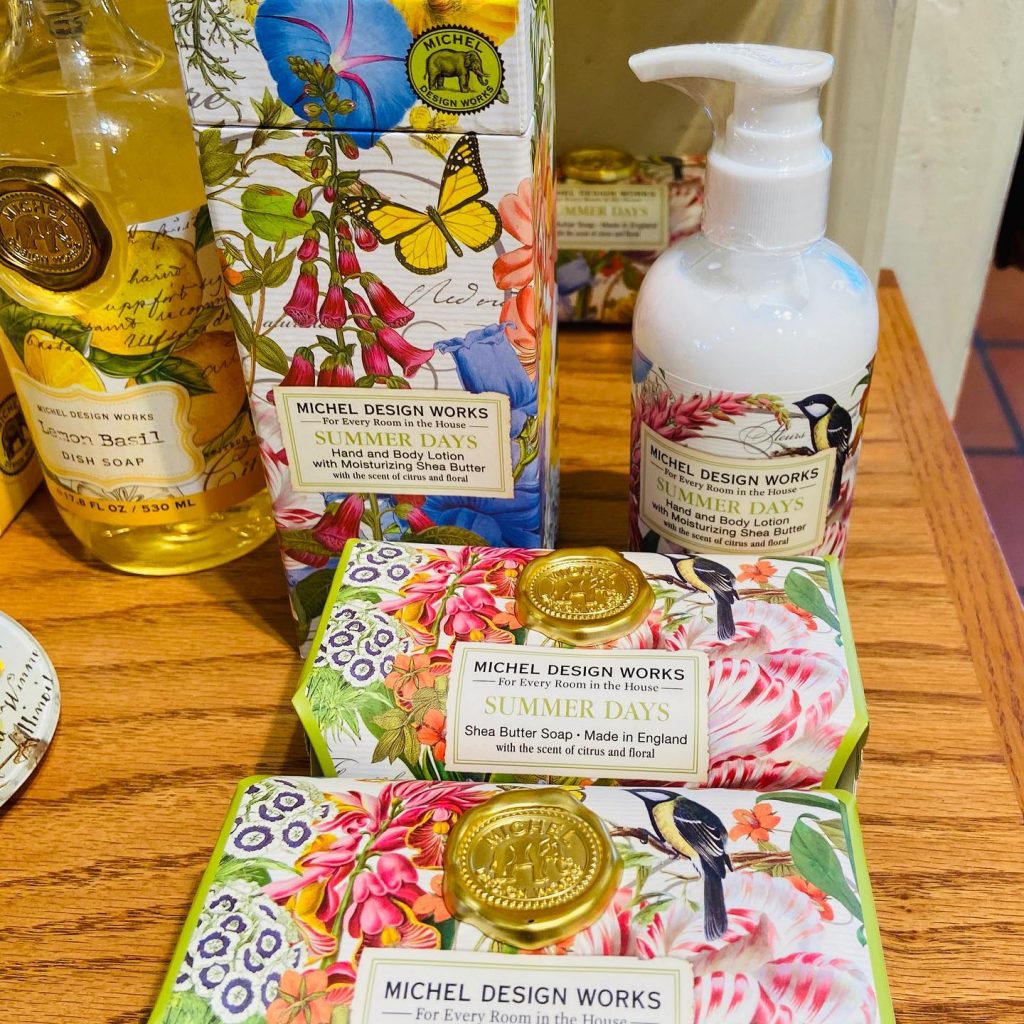 Pamper your loved one with our assortment of signature, gorgeously scented soaps and lotions. These beautifully wrapped self-care items are great ways to spruce up any kitchen or bathroom.
4. Paper Flowers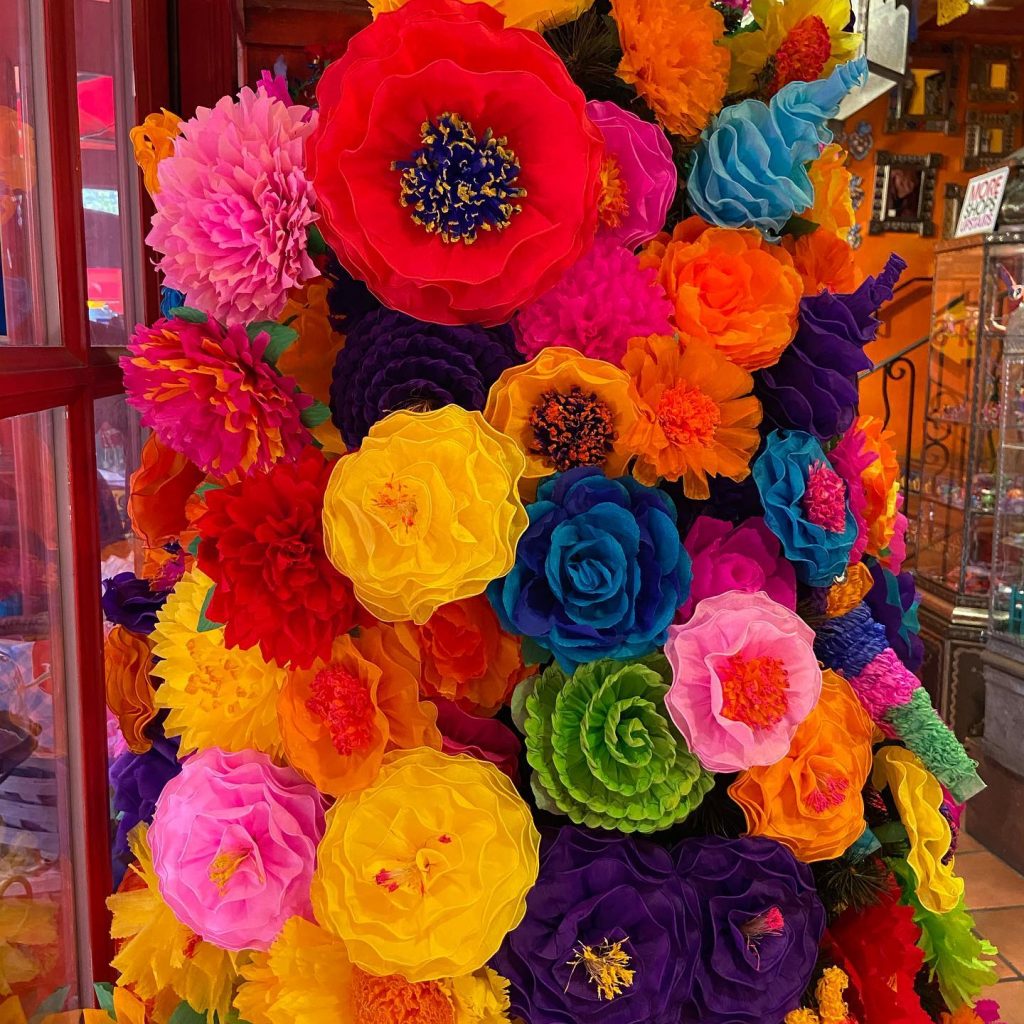 Show your special someone that your love won't expire! Give a gift that will last a lifetime with these stunning, handmade paper flowers! Pick from an array of different styles, colors and sizes.
5. Heart Shaped Home Décor
Nothing screams love quite like a piece of heart-shaped home décor. Choose from a wide range of colors and styles – all beautifully hand-painted by international artists.
Wishing you a happy and safe Valentine's Day filled with love from all of us here at Bazaar del Mundo! 
0
Finding the right gift can have its challenges, but lucky for you the Bazaar del Mundo Shops make shopping a new and exciting experience for everybody! You'll find a lovely collection of beautiful and unique items, along with collectibles from countries all over the world. Our ever-changing shops offer new merchandise that will leave you intrigued and wanting to know more about how and where each item was made. Come on by and find the best gifts in San Diego for mothers, sisters, brothers, aunts, kids and friends and more!
Check out our gift guide below for some creative gift giving ideas from one of the best places to shop in San Diego:
Unique Dishes for All!
These days we all find ourselves spending most of our time at home – with lots of that time spent in the kitchen. Travel is limited, but cookbooks will introduce you to different cultures, unique dishes and new ideas. Whether you're trying a new and unique Chilaquiles recipe (a traditional Mexican breakfast dish), or a creamy, fruity and tropical dessert, the holidays call for even more meals and cooking!
When shopping at Bazaar del Mundo, you'll find a fabulous selection of cookbooks dedicated to recipes for vegans, all things meat, vegetarians, breakfast foods and more. Alongside an array of cookbooks is an assortment of traditional Mexican spices, soup and bread mixes, sauces, salsas, preserves, jellies, dressings, and vinegars – all beautifully packaged and ready to be gifted!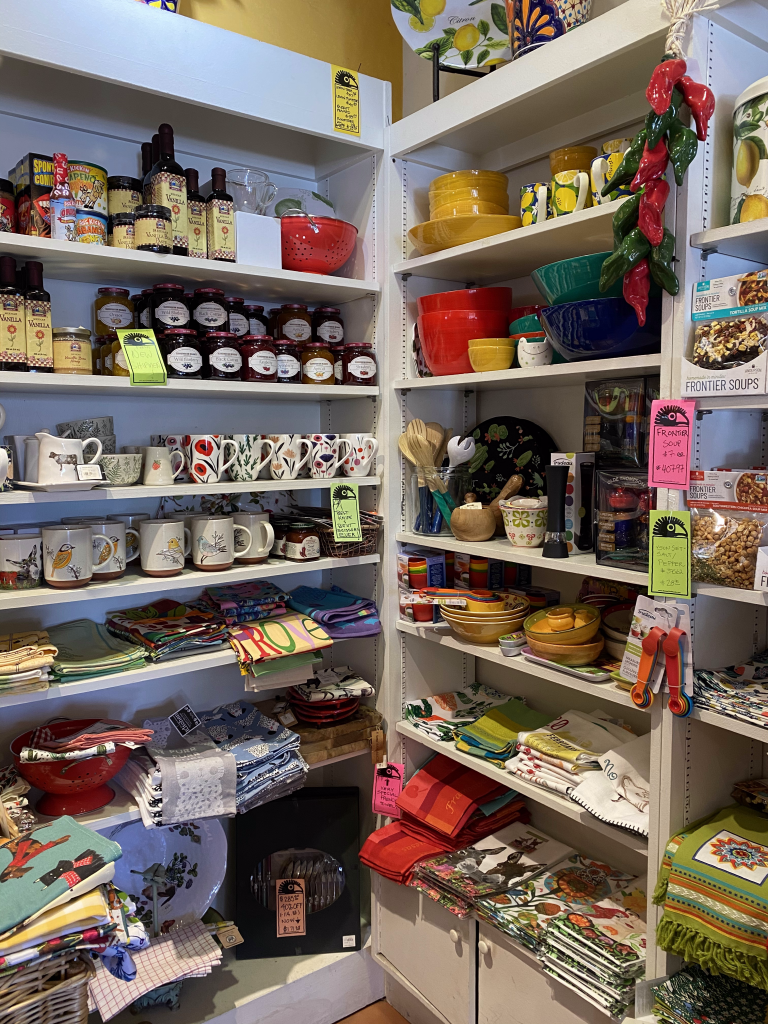 New Year, New Décor
Give your home a makeover with colorful décor that will enrich your home with beautifully designed and handcrafted pieces from all around the world.
Step into our Guatemala Shop and catch a glimpse into the most vibrant of Guatemalan markets, as well as art and accessories from Central and South America. This shop also presents traditional Latin American crafts and textiles, with handmade and one-of-a-kind collectibles.
Surround yourself with vibrant décor in our Artes de Mexico Shop. Here you'll find the best of what Mexico has to offer without leaving San Diego – you'll find a wide selection of regional folk art, ceramics, ornaments, traditional Mexican clothing and authentic Mata Ortiz pottery. Customers can find colorful and festive decorations such as piñatas, paper flowers and sombreros for any "fiesta!" themed celebrations.
In our Design Center, we carry hand-woven Mexican Zapotec rugs, beautiful folk and tribal art, reversed applique pillows, baskets, chimes and more. Whatever you chose – your gift will be one-of-a-kind!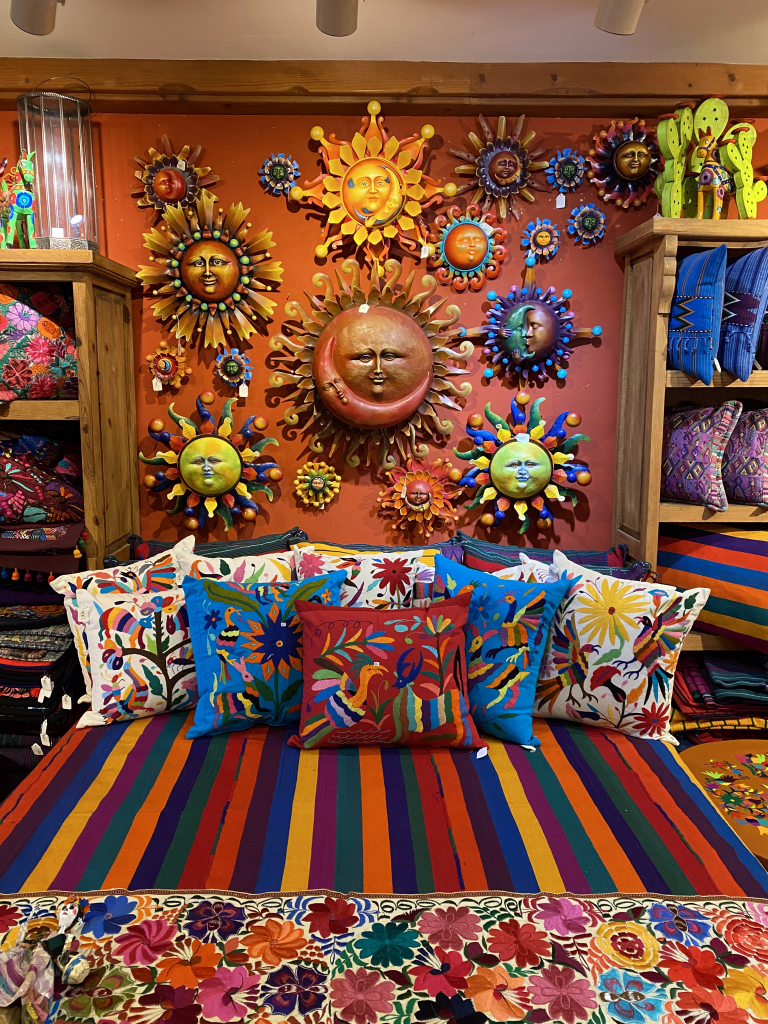 Fashion Finds
Looking for unique and colorful fashion pieces you can't find anywhere else? This holiday season, the Bazaar del Mundo Shops are filled with new finds including women's clothing, purses, belts, jewelry and more in our Ariana Shop. Or head to The Gallery and find exceptional pieces made by artists, including decorated glass, wall art, and a large collection of authentic Native American jewelry featuring turquoise, corral, lapis and more.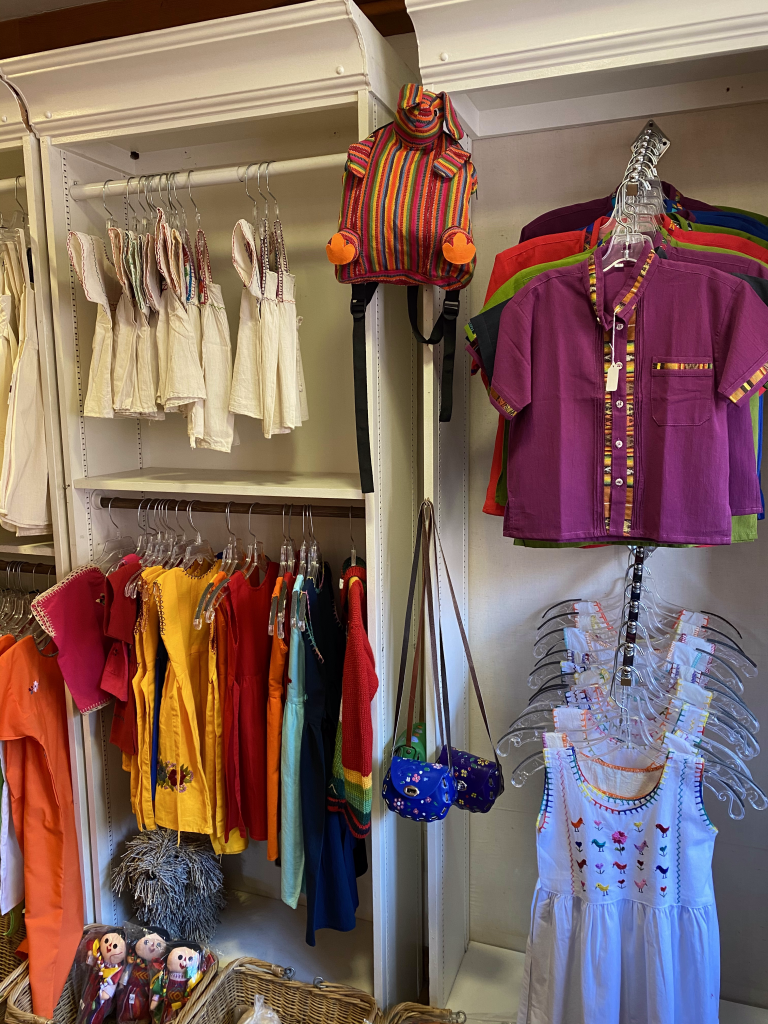 Finally, our Shops feature a wide selection of traditional Latin American and Mexican clothing – in designs and fashions for the whole family. Shopping in San Diego just got that much easier with the best finds from Bazaar del Mundo!
Bazaar del Mundo is one of the best places to shop in San Diego, with everything you need this holiday season. Travel the globe with a walkthrough of our shops and take a closer look at our collectibles from the world's most colorful countries.
And don't forget about our signature wrapping that adds a pop of color to each gift!
The Bazaar del Mundo's RSS Feed