The Bazaar del Mundo
This user hasn't shared any profile information
Posts by The Bazaar del Mundo
0
No one knows how to throw a Cinco de Mayo party like Diane Powers! Visit her Bazaar del Mundo Shops in Old Town to plan the perfect fiesta for your friends and family.
Everything you need to throw an unforgettable get-together can be found in our Shops – colorful dishware, Talavera platters, one-of-a-kind Mexican paper flowers, traditional Mexican papel picado and hanging chili lights. You can even give your guests festive party favors like our tasty Mexican sauces and salsas.
Complete the cultural experience by dressing the part! Stunning and authentic blouses and dresses are available in our Artes de Mexico Shop, along with gold and silver jewelry in Ariana.
Leave it to our chefs at Powers' Family of Mexican Restaurants – Casa Guadalajara, Casa de Pico, Casa de Bandini and Casa Sol y Mar – to cater a flawless meal including antojitos (appetizers), carne asada, carnitas, fresh tortillas, frijoles, postres (desserts) and more.
To see more of our fabulous Cinco de Mayo merchandise, see a photo gallery on our Facebook page.
0
St. Patrick's Day is over, but we're still seeing green. A sweater, a scarf – perfect for breezy weather – or a dazzling beaded belt, you can dress in various green hues from our Ariana shop.
Or, entertain guests with a green table! The Kitchen Shop has dishes – glasses, bowls, plates and flatware – as well as table linens and place mats that will fit your theme. Your diners will be you-know-what with envy.
Throughout the Bazaar del Mundo Shops, you'll also find "verde" lamps, bags, Mexican folk art, furniture, jewelry, shoes and more!
To see more of our fabulous green merchandise, visit our Facebook photo album.
0
It doesn't take much to liven up a tired room. Whether it's a guest bedroom or living room, new throw pillows or linens can add color to any area.
The Bazaar del Mundo Shops have many options for festive and ethnic pillows, including a selection of fair trade merchandise. Floral patterns, tribal designs, Pendleton blankets and an array of Guatemalan fabrics will have your guests asking, "Where did you get that?"
Shop bedding, linens and more home decorating items at our Shops, located at the north entrance to Old Town on the corner of Juan and Taylor Street.
0
Finding the perfect present for the woman you love can be difficult, but with thousands of unique international gifts at Bazaar del Mundo, there's always something beautiful to express your message.
Whether it's a colorful pair of earrings, darling wallet with a Mexican calendar girl, or a special jewelry box, a gift from Bazaar del Mundo stands out – never something you could find at a department store!
For more chic Valentine's Day gifts and hidden gems from all around the globe, visit Bazaar del Mundo Shops at the north entrance to Old Town on the corner of Juan and Taylor.
0
We'd like to thank our wonderful customers with a day dedicated especially to them. Please join us at the Shops for Customer Appreciation Day, a celebratory shopping party, this Thursday, December 5th from 10 a.m. to 9 p.m. It's the perfect time to escape the crowded malls and enjoy some holiday shopping!
As always, shoppers can find one-of-a-kind creations and unique designs that are distinct, beautiful and creative. There will be live music, delicious food and beverages, prize drawings, and a special meet-and-greet opportunity with artist John August Swanson, who will be displaying his newest work.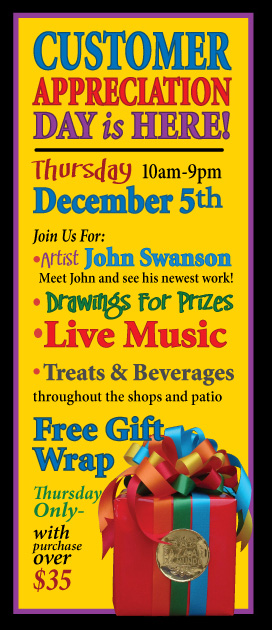 0
We know San Diegans love their pets – maybe it's the ideal all-year-around weather, perfect for morning walks and park visits. When you can't get enough of your furry companions, the Bazaar del Mundo Shops is the place to visit, featuring a large assortment of colorful, unique animal-themed items.
From bright, eclectic throw pillows, to one-of-a-kind art pieces made of wine bottles, our selection is bounding with variety and whimsical style. New items are regularly being added, so you are sure to find exceptional, intriguing pieces with each subsequent visit. With the holidays quickly approaching, this is the perfect time to see what's in store – and to find the perfect gift for that animal-lover in your life!
0
Join us at Bazaar del Mundo on Nov. 30th for music, treats and a merry environment to get an early start on your holiday shopping. Browse our collection of handcrafted artisan jewelry, home accessories and collectibles from all around the world, creative fashion, arts and crafts, hundreds of cookbooks and whimsical ornaments in all different styles and colors to adorn your Christmas tree!
For a shopping break, dine locally at Casa Guadalajara next door. Sip a frosty margarita, nibble on the Antojitos Platter and indulge in the Carne Asada Tampiqueña – and when you do, know that you are supporting a local business in your neighborhood.
Small Business Saturday is a national campaign that rewards American Express users when they shop and dine at local businesses, making a contribution back to their communities. AmEx users who have pre-registered their card, will receive a credit back on their statement. For more info about the campaign, visit: www.smallbusinesssaturday.com.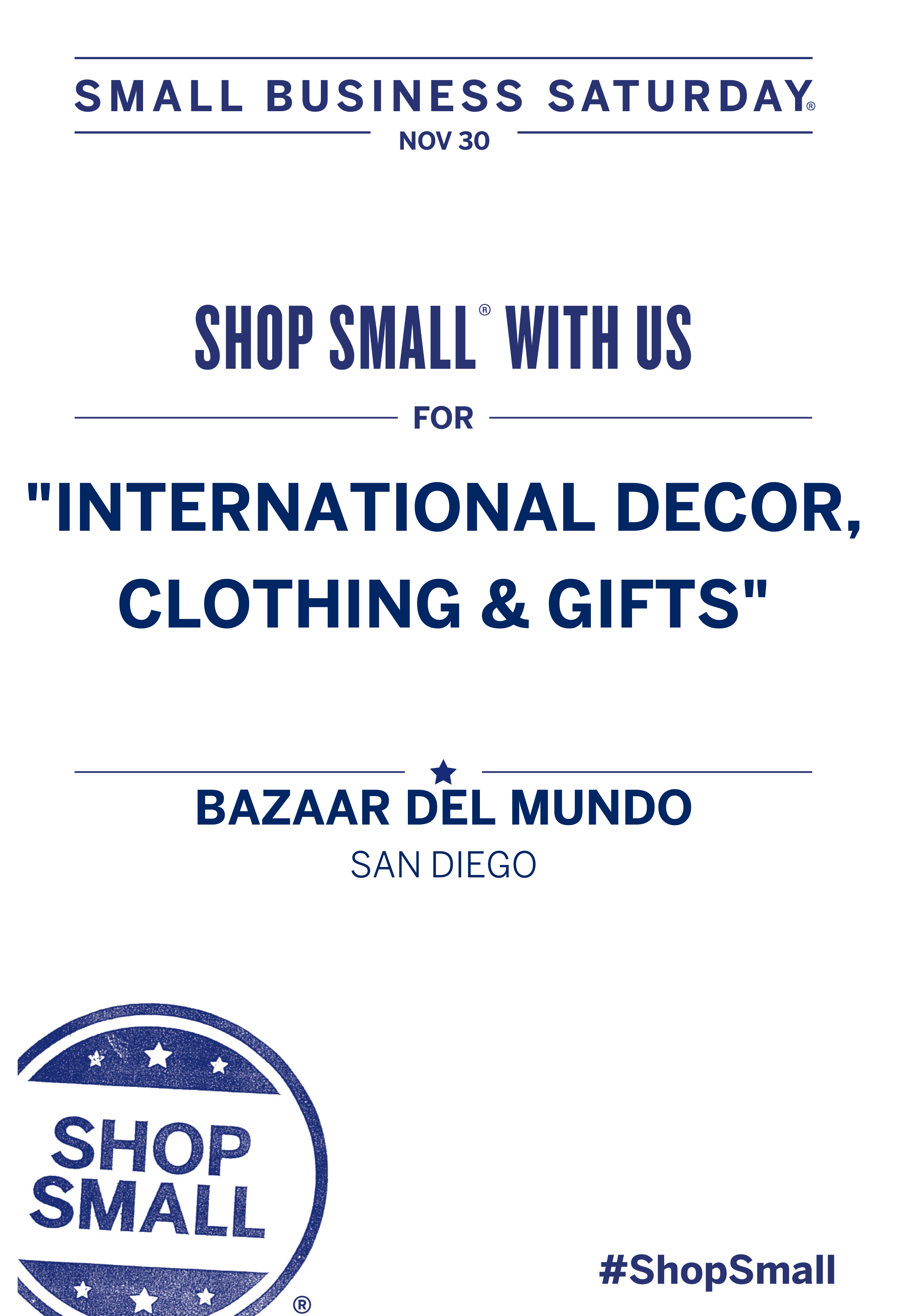 0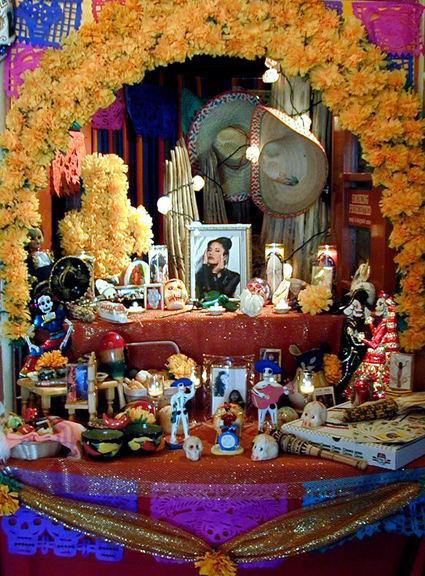 Bazaar del Mundo's second annual "Saints, Souls and Style" will pay homage to the dead with a Dia de los Muertos event featuring elaborately decorated altars, sugar-skull decorating and face painting.
As the first stop on Old Town San Diego's Annual "Tour of Altars," produced by the Save Our Heritage Organization (SOHO), Bazaar del Mundo will transform its shops into a walkable trail of altars, complete with traditional sugar skulls, handmade papier-mâché decorations and special Day of the Dead-inspired clothing and crafts.
Guest artists will sell jewelry, accessories, prints and cards promoting the holiday. Music will be performed by Latin American folk band Tinku.
Children and families can enjoy a sugar-skull decorating class as well as a face painter (Saturday only; noon to 7 p.m., small fee applicable). Drinks, snacks and coloring sheets will be available for the children, while historical handouts will be provided to adults. Neighboring Casa Guadalajara ­will have authentic Mexican cuisine for sale as well as event "specials," and serve as the second stop on the tour.
The event will take place Friday, Nov. 1 and Saturday, Nov. 2 from 10 a.m. to 8 p.m. at Bazaar del Mundo at the north entrance to Old Town, on the corner of Juan and Taylor Streets.
"Saints, Souls & Style" is in conjunction with Old Town's Dia de Los Muertos two-day event, which includes "Tour of Altars," a candlelight procession, face-painting and mask decorating throughout Old Town at participating sites.
0
Collectors of fine Native American jewelry, art, hand woven rugs and Pendleton blankets will enjoy an unforgettable weekend among some of the Southwest's finest Native American artists at Bazaar del Mundo's "Santa Fe Market," Friday, Saturday and Sunday, September 20 to 22 in Old Town.
Diane Powers' "Santa Fe Market" is San Diego's prime destination for stunning and authentic Native American jewelry and home décor in bold shades of turquoise, coral, terracotta and orange.
The festival, at the Bazaar del Mundo Shops, is a colorful outdoor marketplace featuring Navajo, Cherokee, Hopi, Pima, Isleta Pueblo and Santo Domingo Pueblo tribe members, along with other noted Southwestern artists demonstrating and selling their wares.
The collections include: sterling silver and multi-stone inlaid jewelry of turquoise and coral, sculptures, Pendleton blankets, Native American graphic art, paintings and more.
More than 25artists will be in attendance; new artists include:
Jewelry aficionados will recognize Navajo jeweler and "movie star" Ray Tracey, who has appeared in "Seems Like Old Times" with Goldie Hawn and Chevy Chase and the 1980's TV series "Lou Grant." His colorful pieces include gold, turquoise and lapis stones, as well as feather, bear and horse motifs.
Cherokee artist John Balloue will present his colorful giclées (fine art digital prints made on an inkjet printer). His work appears in public collections throughout the country including the Cherokee Museum in Oklahoma. In 1992, he was named Artist of the Year from the Indian Arts and Crafts Association.
Multi-talented Bernie Granados, Jr. will present his paintings, masks, sculptures and miniatures featuring beautiful images of horses, buffalo and ancient ancestral figures inspired by visions and cave art throughout America.
Santa Fe Market visitors can take in this dazzling showcase while enjoying live musical entertainment. Neighboring restaurant Casa Guadalajara will offer Southwest-inspired lunch and dinner selections.
The event runs 10 a.m. to 8 p.m. Friday and Saturday, and 10 a.m. to 5 p.m. on Sunday.
0
There is no need to travel to the deepest regions of Mexico in order to experience some of the world's most vibrant Latin American folk art and Mexican pottery – just visit the Bazaar del Mundo Shops' Latin American Festival and Mata Ortiz Pottery Market, August 2 to 4, in OldTown, San Diego.
The colorful marketplace hidden beneath a colorful array of umbrellas with artists from Mexico, Guatemala, Peru, Ecuador and other Latin American countries, showcases one of the most extensive collections of genuine Latin American folk art, traditional clothing and textiles and colorful collectibles and radiant jewelry this side of the border. Guests can peruse authentic, hand-painted Mata Ortiz Pottery, colorful Mexican folk art and vibrant artisan jewelry.
The Festival exhibits San Diego's largest collection of authentic Mata Ortiz pottery, a centuries-old art form renowned for its detailed process and hand-painted geometric and ancestral symbols, with several skilled potters showcasing their wares, including Jorge Quintana – a principal Mata Ortiz artist whose work has been displayed in museums all over the world.
Live demonstrations will be performed for eager festival-goers, as artists hack away at wooden stumps to reveal life-like animal figures, weave hand-pulled wool into intricate textiles and skillfully paint delicate designs onto hand-formed clay pots.
Other custom crafts and sought-after handmade goods include: San Antonio embroidery, tinwork, Talavera pottery, Oaxacan wooden animal carvings, Guatemalan weaving, various colorful and symbolic wall art and sculptures, Huichol yarn and bead paintings and one-of-a-kind pottery.
Musical entertainment will be provided by TINKU, a Latin American Folk band performing over 19 musical rhythms from throughout Latin America on authentic native instruments. Mouth-watering Mexican cuisine from neighboring Casa Guadalajara restaurant will be for sale.
Admission is free. The event runs 10 a.m. to 8 p.m. Friday and Saturday and 10 a.m. to 5 p.m. on Sunday.
The Bazaar del Mundo's RSS Feed