The Gallery
0
Skip the neck ties! At Bazaar del Mundo, we have a wonderful variety of handcrafted, unique gifts that Dad will treasure for years to come. Check out some of our fun Father's Day gift ideas below.
For the music loving dad, these paper sculpture guitars are sure to impress. One has a Beatles theme and one is a tribute to Gene Autry.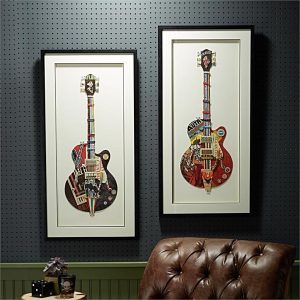 For the ocean loving dad, how about a shark made entirely from recycled car parts? This is perfect for someone who is into re-purposing materials as well! The sculpture below is priced at $169.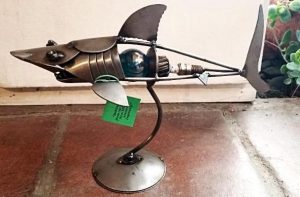 For the purrr-fect dad, we love our art glass cats! They come in a variety of colors and two sizes, and their curved shape makes them easy to display. Made in Canada, $119-$179.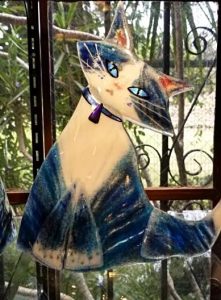 For the nature loving dad, we have an incredible assortment of polymer clay, handcrafted critters! They have amazing detail and intricate patterns. Pieces range from $125 to $215.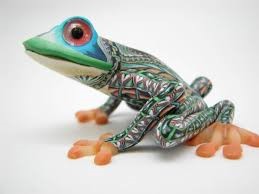 For the daydreaming dad… He will be mesmerized by this sand art made with nine different weights of sand and glycerine. Get a different scene each time you turn it over! $72-95.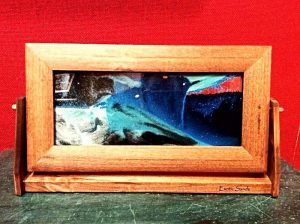 For the tequila loving dad, keep him up to speed on the latest cocktail recipes – just in time for summer barbecues and entertaining! "Viva Mezcal" by Jennifer Boudinot and Lindsey Moore is priced at $17.95.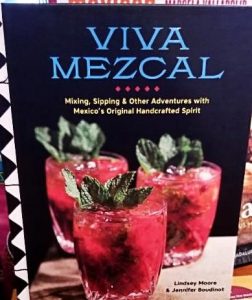 0
Come into The Gallery at Bazaar del Mundo to view Jon Stuart Anderson's newest designs, including some "simple" creations that are offered at a reduced price – perfect to jumpstart your collection!
These amazing animals are created by using colored Fimo clay. Every color in each design is actually a different piece of clay. There is absolutely no paint used whatsoever!
HOW?
Using a technique based on the ancient Millefiore method of glassmaking, Jon combines different colored canes of clay to create an illustration roughly the size and shape of a loaf of bread. The central design is repeatedly stretched and cut as other designs are added.
Just as in nature, this process is replicated over and over until the finished organism becomes quite complex. The composite image is finally reduced by further stretching to the size of a small coin, and then cut and applied much like mosaic tiles to the animal's form. Every stage of the arduous process is done completely by hand. The entire piece is then fired and finished.
Because each piece is completely handmade, no two are ever exactly alike. Once the design tiles are all used, that image is gone forever. This renders each piece unique and collectible.
---
About the Artist
Jon Anderson is the most accomplished polymer artist in the world today – an exceptional combination of artist, botanist, mathematician, zoologist and engineer. Jon is inspires by the wonders of nature and art. He has been refining these amazing sculptures for more that 25 years and continues to create new and beautiful images by his own hand every day in his studio, hidden deep in the paradise of Bali.
0
Among the multitudes of treasures at Diane Powers' locally owned Bazaar del Mundo shops in Old Town is the Laurel Burch Gallerita, bringing a unique variety of designs centered around the well known artist's passion for vibrant colors, nature and culturally universal art. This shop is dedicated to honoring Laurel's creativity. Her whimsical pieces include coffee mugs, canvas tote bags, silk scarves, socks, woven pillows and throws, greeting cards, note cards, bookmarks and magnets.
As a young child, Laurel was diagnosed with a rare bone disease called osteopetrosis. Frequently hospitalized, she began sharing her talents by telling stories and making small gifts for the other patients. Her ability to see beauty in the world around her was inspiring to all and created vision within her artwork.
In the 1960s, Laurel began selling her work on the streets of San Francisco's Haight-Ashbury district. Although she had never taken a single art class, Laurel's work displays intricate details and a sense of expertise that cannot be taught!
Laurel Burch passed away in 2007, leaving behind a legacy of meaningful work connected to her global spirit, courage and commitment to her community. Her colorful spirit will forever live on through her exquisite art and designs.
One of our Bazaar del Mundo shop managers, Leslie Gregory, shared years of friendship with Laurel Burch and speaks about her, here: http://goo.gl/6AyxBm